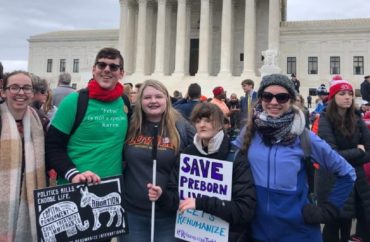 Student government prohibited funds from going to groups that opposed abortion, contraception
University of North Carolina at Chapel Hill's student government is in violation of the First Amendment due to a July executive order, according to a leading campus free speech organization.
The Foundation for Individual Rights and Expression sent a letter on Thursday to Taliajah Vann, student body president, as well as university and student government leadership, and asked them to rescind an executive order against funds going to pro-life organizations.
The executive order came as a result of the June 24 Supreme Court ruling in Dobbs v. Jackson Women's Health Organization which reversed Roe v. Wade and returned the issue of abortion to the states.
The letter informed Vann that the July 6 executive order that prohibits funds from going to "any individual, business, or organization which actively advocates to further limit by law access to reproductive healthcare," violated the viewpoint-neutrality principle of the First Amendment.
"Reproductive healthcare" includes "contraception and induced abortions."
The Undergraduate Student Government "may not condition campus group funding on adherence to those [pro-choice] viewpoints," the letter stated.
"UNC Chapel Hill's student government cannot declare itself the arbiter of which opinions are acceptable," letter author Zach Greenberg stated in a news release.
"We call on these student leaders to uphold their constituents' free speech rights by doling out funds in a viewpoint-neutral manner," Greenberg, a senior program officer in campus rights advocacy, stated.
The full student government has yet to implement similar restrictions, according to FIRE.
The campus Students for Life group criticized the executive order.
Its July 11 letter called the executive order and the sponsorship of a pro-choice rally "radical" and "one-sided." The student government sponsored a "Redirect the Rage" rally, organized in response to the June 24 Dobbs decision.
The decision to exclude pro-life groups also harms women and families on campus, the Students for Life group alleged.
It makes the campus "a less accessible and less inclusive place for parenting students and faculty members and actively limits the opportunities and resources available to struggling families."
MORE: Professor wants abortion ship in Gulf of Mexico
IMAGE: Wolf Pack for Life/Facebook
Like The College Fix on Facebook / Follow us on Twitter