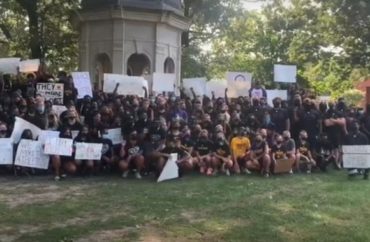 No gatherings unless it's in support of Black Lives Matter, apparently
A free speech advocacy group has sent two letters to East Carolina University after the public college banned gatherings of more than 50 students, but allowed a Black Lives Matter protest on campus.
Southeastern Legal Foundation sent a letter to the North Carolina public university on September 16 seeking information on its enforcement of its coronavirus policies. After receiving no response, the public interest law group sent a follow-up letter on September 24.
The September 16 letter warned the university that its coronavirus policies set a "dangerous, unconstitutional precedent" that "could be used to stifle free speech."
Kimberly Hermann, the foundation's counsel, told The College Fix via email it will "continue to monitor the situation."
"We never rule out litigation, but as in cases across the nation, many universities have amended speech and privacy policies once constitutional concerns have been raised," Hermann said.
The university had previously announced at the end of August restrictions on gatherings, including a ban on more than 50 people gathering outside. The school also banned inside gatherings of more than 25 people, following the guidelines set by the state. All classes are now online.
However, on August 31, "members of the campus community—including athletes, coaches, and administrators—protested in an outdoor area of campus" the foundation noted.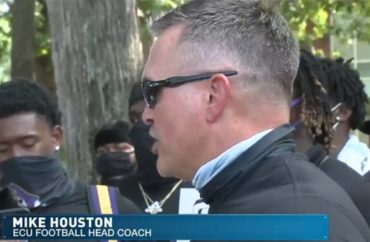 Students marched through campus and at least two coaches gave speeches unmasked and surrounded by activists, according to video footage from WITN.
[The news station erroneously claimed that Jacob Blake, the victim of a police shooting in Kenosha, Wisconsin, had died. Blake is still alive.]
Campus officials had also asked students to consider reporting other people they suspected of having coronavirus. The school's website lists possible sanctions for violating coronavirus rules, but did not delineate how they would be applied.
The September 16 letter pointed out that on September 11, campus police announced that 17 students had been referred for investigation to the student rights and responsibilities office for violating rules against large gatherings.
ECU Men's Basketball was proud to participate in today's unity march for social equality. 🏴‍☠️ pic.twitter.com/x64wBVCjeT

— ECU Men's Basketball (@ecubasketball) August 31, 2020
The university's media relations office did not respond to multiple emailed requests for comment from The College Fix in the past week.
The foundation warned the university that the vagueness of the policies make them unconstitutional.
"Although ECU lists the protocol for large gatherings and failure to wear masks, it does not state which consequences accompany which conduct," Hermann wrote. She pointed out that ECU does not have a hearing or appeal process for students accused of breaking coronavirus rules.
"Without clear guidelines about punishable conduct in place, and without adequate procedures for disciplining students, ECU's policies are vague and open the door to due process violations," Hermann wrote in the September 16 letter.
Furthermore, by punishing some students, the university is violating viewpoint neutrality: "In doing so, the University has effectively elevated the views and goals of the student athletes and fellow protesters over other student organizations."
As it points out in its September 24 letter, the group has no problem with faculty and students exercising free speech. Instead, it wants assurance the university will not treat some views differently than others.
"The issue is not that some students engaged in speech…The issue is whether the University will respect the speech activities of all students in the spring, regardless of the format or views behind them," the letter said.
MORE: Harvard dean confirms it will use police to enforce social distancing
"Any school policies that distinguish between activities—based either on the message or the type of activity—amount to viewpoint and content-based discrimination, respectively."
The September 24 letter asked for clarification again on the guidelines and asked about 18 different gathering scenarios and how ECU would handle them, including a rally in support of police.
While students cannot currently attend classes in-person, Hermann argued that students need to know what they are facing when they return to campus in the spring.
"A lack of communication about what faces students when they return to campus in January will influence their decision to return to campus at all," Hermann wrote in a blog post.
"We are always on the lookout for policies enacted by state colleges and universities, that pose a threat to free speech, freedom of association, and privacy," Hermann told The Fix. "We are reviewing recent COVID-related policies at other schools."
MORE: University amends COVID reporting form after constitutional law group intervened
IMAGES: Star News Online / Youtube, WITN
Like The College Fix on Facebook / Follow us on Twitter