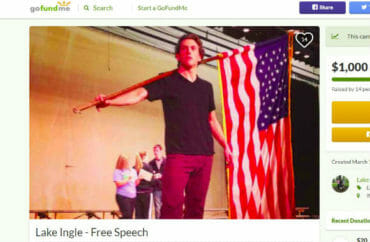 He's already raised enough to pay for a lawyer
A male student barred from class for "significantly disrupt[ing] the learning process" may have simply been expressing a viewpoint, making his punishment "highly inappropriate," according to a free-speech group.
The Foundation for Individual Rights in Education takes a skeptical view of Indiana University of Pennsylvania's stated rationale for punishing Lake Ingle, who has become a cause celebre for suppression of conservative beliefs this month.
His professor reported him to the provost's office after Ingle shared his views in a class discussion on gender-related issues that reserved comments for females first.
"The classroom in particular must remain a place where ideas are free to be challenged and debated, no matter how deeply held," Ari Cohn, director of FIRE's Individual Rights Defense Program, told The College Fix in an email.
"Holding some ideas as not subject to questioning would gut the core purpose and ideals of higher education," and it runs against Supreme Court precedent for public universities like IUP, Cohn said.
Ingle has raised $1,000 since Saturday to pay for a lawyer in his bid to stay in the class, which is required for his religious studies major.
He said on Facebook he'll learn his fate March 19 when the "ruling from the Academic Integrity Board hearing will be released." If he's banned from the course permanently, "I will have to pay for an online class in order to graduate," he wrote on the GoFundMe page.
It's wrong to portray 'anecdotal accounts' as 'fact'
Ingle removed his side of the story from Facebook after being "advised by my legal council [sic]" and asked supporters to not come to his hearing, but his March 4 post remains archived online.
Ingle announced his upcoming appearance before the Academic Integrity Board, and he shared disciplinary documents he was given.
He said the "narrative of disrespect, disruption, anger and intolerance" applied to his behavior in class Feb. 28 was false: "This is about free speech and the constant misuse of intellectual power in universities."
Prof. Alison Downie, whose PhD concentration was in "Christian Feminist Theology," showed her "Self, Sin, and Salvation" class a TEDx Talk featuring transgender clergy member Paula Stone Williams.
MORE: Employee beats hate-crime charge for believing in two genders
Williams describes her experiences living as male and female and the "privileges" that men have that she lost after choosing to identify as female. Living as a woman means "working twice as hard for half as much" and "constantly being subjected to mansplaining."
Downie then discussed the "REALITY" of these concepts, including the gender wage gap, and told the class that male students couldn't speak until females "have had their chance to speak," according to Ingle.
He said he only spoke after "thirty seconds or so" had passed with no females speaking, then objected to the portrayal of Williams' "anecdotal accounts" as "fact."
Ingle said he cited biologists who say "there are only two biological genders" and The Economist to question the gender wage gap, and accused Prof. Downie and the religious studies department of "misuse of intellectual power, of which I have become familiar over the past few semesters." After that, "class proceeded normally, thereon."
'An attempt to bully me into redacting my views" 
Downie gave him two disciplinary documents the next morning and did not let him challenge her narrative of his action the previous day, Ingle wrote in the deleted post. He accused her again of "misuse of intellectual power" and he was "asked to leave."
One document requires him to "write an apology" to Downie and "take responsibility for inappropriate behavior which has significantly damaged the learning environment of the course."
He must also apologize to the class "and then listen in silence" as Downie and others share "how he or she felt during Lake's disrespectful and disruptive outbursts." (It's not clear whether Downie is misgendering nonbinary students or knows her class does not include such students.)
Ingle said he received the third document the next day. The disciplinary letter from the Office of the Provost says because of the "serious nature" of his actions, Ingle is "barred" from attending class and any form of contact with Downie.
In today's universities it doesn't matter how smart you are, it doesn't matter how hard you work. All that matters is how much Marxist bullshit you're willing to clap along with like a retarded seal #classwar pic.twitter.com/upG85j50ZJ

— Pave Darker #ShallNotCensor (@APaverDarkly) March 9, 2018
MORE: Expect legal fight if you punish us for 'only two genders' sign
He called his viewpoint a minority in the department:
During my time as a Religious Studies major, I have had professors insult me for opposing views, call me names such as 'racist' or 'sexist', and have had my views discredited due my race, gender, and sexual orientation. … more than one line [in the charging documents] is entirely untruthful and is done so purposefully to discredit my views and paint me as intolerant and ignorant. …

It is my belief that the instructor's decision to file these sanctions is an attempt to bully me into redacting my views, making it a matter of free speech.
Ingle did not respond to email and Facebook queries from The Fix regarding his situation or future plans. Downie did not respond to multiple phone and email requests.
The IUP administration declined to answer questions from The Fix after multiple phone and email inquiries, "due to the requirements of the Family Educational Rights and Privacy Act." It did not cite those specific requirements in the law, which is often misused for "institutional stonewalling," according to FIRE's Zack Greenberg.
Most of the comments on Ingle's Facebook page appear to be supportive, but others take issue with his views and subsequent media attention. "Stop being a disruptive dick," one wrote.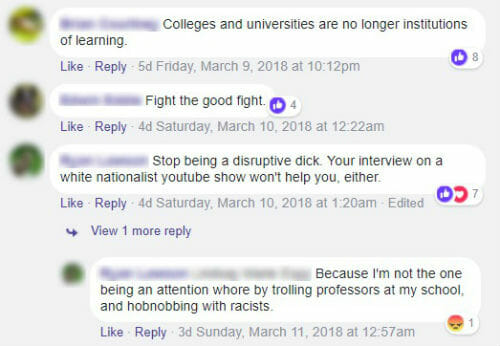 Conduct that got him in trouble, or views?
Faculty members at a university "have the right to set certain rules regarding classroom behavior, and to set the format of a discussion," FIRE's Cohn told The Fix.
If a student disrupts or "refuses to comply" with the instructor's format, "the student is exposed to potential discipline":
However, discipline of the student based on the views they express, even if those views voice disagreement with course materials or the views of the instructor, would be highly inappropriate.
Citing the charge letter's description of Ingle's behavior as "disrespectful references to the validity of trans identity and experience," Cohn said it "raises the question of whether it was truly the student's conduct that the faculty member considered disruptive, or rather the views that he voiced."
MORE: Harvard CS club apologizes for two-gender dating algorithm
He continued:
As the Supreme Court said when it held that students could not be compelled to salute the flag and recite the pledge of allegiance: "If there is any fixed star in our constitutional constellation, it is that no official, high or petty, can prescribe what shall be orthodox in politics, nationalism, religion, or other matters of opinion, or force citizens to confess by word or act their faith therein."
In a video interview with The Red Elephants, Ingle said he had been "complimented" by professors before and had a "reputation" for contributing to classroom conversations.
He also firmly stated that his position on the current state of higher education is to "not attack the sharing of views," including those of a "cultural Marxist" professor, presumably referring to Downie.
He said the point of the First Amendment is that "anyone can share their views no matter how radical, how insane they may seem, so that we can all reach a combined truth, or at least an objective truth, together."
But when a professor "tampers with the learning process of a student" by forcing their views on students, or seeks to "alienate people that do not have views that coincide with theirs … when that takes place, that's something that I won't stand for," Ingle said.
MORE: Ingle banished for challenging feminist professor
IMAGE: GoFundMe screenshot
Like The College Fix on Facebook / Follow us on Twitter