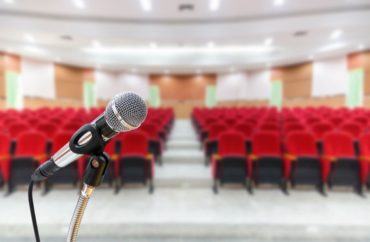 They have 'good working relationships' with several schools
When incoming freshmen attend orientation programs this fall, virtually or in person, they stand to learn about implicit bias, consent and other topics intended to control how they interact with peers.
The Foundation for Individual Rights in Education and New York University's First Amendment Watch are offering another option, intended to teach students about their "free speech rights and the principles behind the First Amendment."
The two organizations teamed up to launch a freshman orientation program this week that colleges can tailor to their own unique needs.
A similar program launched by Purdue University in 2016 served as an "inspiration" for FIRE and FAW in launching their program, Azhar Majeed, FIRE's vice president of policy reform, told The College Fix in a phone conversation.
"But also this project is something we have been thinking about for a long time," he continued, "because we have long perceived a need for better education at the college level for incoming students" on free speech and academic freedom.
"This seems like a good time to roll out this program because of the fact we [FIRE and FAW] have good working relationships with a number of college and university administrations, and we think that will help us get the program out there," Majeed said.
"The original [FAW] site included a handful of key First Amendment principles such as libel, and prior restraint," Soraya Ferdman, a writer and researcher at the NYU-hosted organization, explained to The Fix in an email about the group's history and current role.
Advertised as a resource for "journalists, educators and students," the site has "since expanded to include half a dozen teacher guides" used by more than a hundred professors across the country, Ferdman said. They include "the right to record police, public officials blocking critics from Twitter, NFL protests and the history of symbolic speech."
'It's not a one-size-fits-all' program
The announcements by FIRE and FAW emphasize that it is "critically important to equip incoming students with knowledge of the First Amendment and how to exercise their own rights without violating the rights of others."
Their program consists of a series of modules intended to be shown during freshmen orientation, first-year seminars and other campus-run programs. They run 15-20 minutes each, with prepared remarks for the topic of discussion and additional resources such as videos with Barack Obama and a former ACLU president.
Also included are discussion questions and "skits for orientation leaders to perform — giving life to what can sometimes be difficult conversations," the announcement says.
One of the program's strengths "is that it is adaptable and can be made pretty flexible depending on the needs of the institution," Majeed told The Fix: "It's not a one-size-fits-all" program and FIRE will work with each school to tailor it for that campus.
The first set of modules highlights six topics: controversial speakers, talking across differences, handling offensive speech, unprotected speech, history of protest on campus, and academic freedom.
The controversial speakers module lays out how students should handle speakers who hold viewpoints different from them. Students will learn that groups have the right to invite and listen to speakers of their choosing, and public universities cannot shut down the events.
Therefore, the proper way to respond to speech with which students disagree is more speech. The program visualizes this lesson by outlining a skit for universities to use, followed by a video from President Obama talking about the importance of intellectual diversity.
MORE: Purdue's free speech orientation gets a look from other colleges
The talking across differences module urges students to step outside their ideological comfort zones, because conversations among those that disagree are inevitable and beneficial.
"Learning how to talk across differences will not only help you personally—shaping you into a more agile thinker—it will also help to strengthen the inclusive atmosphere and culture of open dialogue on campus, which relies on our ability to learn from each other," the module says.
Universities should encourage a campus atmosphere of open-minded and good-faith dialogue, especially in a classroom setting, where "many college classrooms are not so much about getting the answer right as they are about testing out new ideas." The module recommends the Supreme Court friendship between the late Justice Antonin Scalia and Justice Ruth Bader Ginsburg as the perfect example of conversing with those of different views.
The offensive speech module stresses that speech cannot be regulated by a public university, which is a government entity, but also argues that free speech is beneficial to all individuals, even at private institutions.
"Censorship… does more harm than good," Nadine Strossen, New York Law School professor and former ACLU president, says in a video from this module. She calls it "a very dangerous tool" based on a concept – offensive speech – that is too vague to regulate and can actually hurt the causes that students support.
Giving the government the power to censor speech gives it "enormous power to pick and choose" which ideas are popular and which ones are not, she says in another video. This can lead to suppressing minorities and minority opinions.
Professors will not face retribution for 'unpopular findings'
The fourth module explains limits to free speech, such as making a "true threat" or intimidation.  The Supreme Court ruling in Virginia v. Black put strict limits on this unprotected speech: It must intend to "communicate a serious expression of an intent to commit an act of unlawful violence to a particular individual or group of individuals." Intimidation also depends on a direct threat to a person or group "with the intent of placing the victim in fear of bodily harm or death."
The fifth module gives a history of protest throughout the United States, from the student-led protests against McCarthyism and the Vietnam War to their support for the civil rights movement and the Free Speech Movement that began at University of California-Berkeley.
The intention of this module is for new students to learn of this long tradition of student protest in the United States, and continue it.
The module on academic freedom may be the most appreciated by the professors teaching these freshmen. It emphasizes that faculty will not face retribution for "unpopular findings" or interference from "biased stakeholders" in their research.
By doing so, learning in the classroom will not be debilitated. "While you may question your professors, and in fact sometimes may be encouraged to do so, professors maintain the right to determine the content of class lessons and the flow of classroom discussion," the module says. (It offers a skit where students challenge a biology professor on his syllabus.)
With that being said, students should expect to be treated and graded fairly in the classroom as well, the module says.
Going forward, Majeed told The Fix, "the next step will be for us to reach out to and work with individual university administrations."
Even though FIRE publicly names and shames universities that refuse to align their policies with free speech principles, "there are a lot of schools with which we have good working relationships," he said, citing its history of defending faculty and students in court cases.
It has also helped many schools earn FIRE's "green light" rating for speech-friendly policies. This has created "a lot of First Amendment friendly campuses where we hope implementation of this orientation program will be the next step," Majeed said.
MORE: University offers several identity-based orientations
IMAGE: wk1003mike/Shutterstock
Like The College Fix on Facebook / Follow us on Twitter