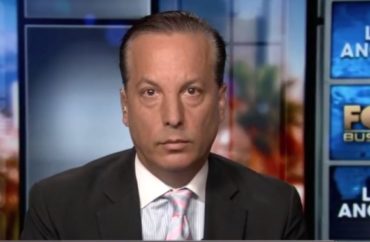 UPDATED
A former UCLA communications professor known for his staunch defense of free speech who was recently fired by the university offered a sobering message to a room full of conservative- and libertarian-leaning students enrolled there.
"If they can get rid of a professor like me for speaking his mind, what is stopping them from doing the same thing to all of you," Keith Fink asked the Bruin Republicans.
"We are in the middle of another Red Scare," said Fink, an attorney and longtime lecturer who was terminated by the university earlier this year despite his popularity among students. His classes, which focused on free speech rights, often garnered waiting lists with 200-plus students.
He made the comments during his speech Wednesday for the GOP campus club. During his talk, called "UCLA's Dirty Tricks Against Conservatives," Fink said of UCLA's leadership: "They twist the rules, they distort the rules, they ignore the rules."
Fink was fired over the summer after he did not pass a performance review, one he said was biased against him. He told students the current communications department chair, Kerri Johnson, "despised" him and wanted him gone.
MORE: Conservative UCLA professor put through 'star chamber' review
He called Johnson "very far to the left," putting her in direct contrast with Fink, who said he doesn't believe in "safe spaces or microaggressions."
After Johnson took over as department chair, Fink said his classes were targeted. First, she capped enrollment into his popular classes, leaving dozens of empty seats and frustrating many students, he said.
MORE: Students blocked from enrolling in professor's 'Free Speech on Campus' class
As for his performance review, Fink said he was told to submit two lists to the administration for peer evaluations: one list with names of individuals he felt were biased against him and another set of individuals he felt could accurately critique his class. Ultimately, no one from Fink's list of accurate critiquers was chosen, he said.
Greg Bryant, the communication department's vice department chair, was asked to critique the class. Fink said he did not believe that Bryant was qualified to evaluate his class because he "is not a litigator. He teaches a class about communicating with dolphins!"
Bryant wrote a two-page evaluation of the class that attacked Fink and his teaching style, calling Fink's class "unwelcoming." However, Thomas Miller, a UCLA communications professor, was also sitting in the class and wrote a five-page report applauding the class, Fink told the students.
Fink also wrote a 48-page response to Bryant's evaluation, a response he said "tore Bryant's paper to shreds." Bryant's evaluation was later thrown out and not mentioned by the administration after Fink's response, he said.
MORE: 'Wanted' posters at UCLA shame faculty who ousted pro-free speech professor
Fink acknowledged to students that his classes did get intense from time to time. He said that the socratic dialogue was inherently confrontational, and, as someone who mocks safe spaces, being politically correct was never a goal of Fink's. Fink said that if students didn't want to be challenged then they should "go take the dolphin class."
Asked if he would ever come back to UCLA, he said: "I could teach many, many places. I want to teach here."
MORE: Conservative professor terminated at UCLA files grievance
Editor's note: The article has been updated to include a video of Fink's speech and to correct that Professor Miller is a communications scholar, not of law.
Like The College Fix on Facebook / Follow us on Twitter