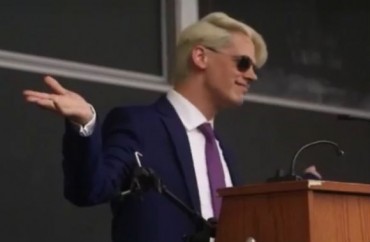 'Impose a steep and lasting price' on them
Less than two months after a professor said students should pay "a steep and lasting price" for bringing Milo Yiannopoulos to campus, a faculty resolution in support of free expression was withdrawn with no explanation.
Bucknell University faculty were scheduled to vote on the resolution, which was "adapted and abridged" from more expansive statements by the University of Chicago and Princeton, at their monthly meeting Tuesday night, according to the agenda.
An administration spokesperson told The College Fix he didn't know why it was pulled, and the faculty sponsors didn't respond to Fix email inquiries.
The incident infuriated a Bucknell alum who has been lobbying the board of trustees to adopt a more sweeping resolution in response to the professor's comments.
Bucknell already promises 'the essence of the resolution'
Unlike the so-called Chicago Principles, which were adopted by a committee established by its administration, the Bucknell resolution would have only amended the faculty handbook.
"It was not a University-wide motion directly involving the administration," the spokesman said in an email. He claimed that "the essence of the resolution is already captured" in various handbooks and "the University's statement of nondiscrimination."
MORE: If you invite Milo to campus, you should 'pay a steep and lasting price'
The resolution's background statement says the faculty handbook's language on academic freedom is "decades old":
It does not clearly support campus free expression more broadly, in an activist twenty-first-century era at a residential campus seeking to be more engaged with our larger community and society. … We feel that it is time for Bucknell faculty to highlight, affirm, and update our support as a faculty community for free expression on campus, in complement with university prohibitions on bias and harassment.
Bucknell University faculty resolution on freedom of expression by The College Fix on Scribd
A new "faculty policy on free expression" says the university should guarantee "all members of the University community the broadest possible latitude to speak, write, listen, challenge, and learn."
The resolution itself would add a new appendix to the faculty handbook. It would say that members of the Bucknell community "should not obstruct or otherwise interfere with the freedom of others to express views they reject or even loathe," and that the administration "has a solemn responsibility" to protect that freedom "when others attempt to restrict it."
How we fought fascists back then: 'Snap a few bones'
On Jan. 16, nearly a year after conservative clubs brought the anti-feminist provocateur Yiannopoulos to campus, Bucknell Prof. Marcellus Andrews sent a mass email to all faculty regarding Yiannopoulos.
"[T]he targets of his abuse need to be able to impose a steep and lasting price on the racists and fascists that invited him," Andrews wrote, apparently referring to the College Republicans, Conservatives Club and Young Americans for Liberty.
MORE: Bucknell protesters mad they still have to march for 'marginalized'
The professor, who is black, said free speech is "not a general principle that vicious speech is without a social price in general."
As a Yale graduate student, Andrews said he was tormented by groups of "young conservative white men." After one such group urinated on him and other black students who were "extremely skilled in combat," the black students "used our skills to rearrange a few faces [and] snap a few bones."
Andrews' email was obtained by student Tom Ciccotta, who had helped bring Yiannopoulos the year before. Ciccotta read it aloud as he introduced "Factual Feminist" Christina Hoff Sommers for an event last month.
Just days after Andrews' email went public, Bucknell alum David Kinnear launched a Facebook initiative to raise awareness about the lack of free expression at his alma mater.
Bucknellians for Freedom of Expression, composed of "proud alumni and friends" of the university, calls on Bucknell to join with other schools that have "repudiated the new American virus of hypersensitivity" by adopting the Chicago Principles.
The Bucknellians released their own proposed statement that says, in part, "it is not the proper role of the University to attempt to shield individuals from ideas and opinions they find unwelcome, disagreeable, or even deeply offensive."
While much of the language between the faculty resolution and the Bucknellians' statement is identical, the administration spokesman told The Fix that the latter was not adopted from the former. (Both cite the Chicago Principles.)
Also an alum of the University of Chicago Booth School of Business, Kinnear told The Fix that the difference in political climate between the two schools is "like night and day." At Bucknell "they're not comfortable in engaging in debate" and "are missing out on a lot by not having that opportunity" to engage in discourse.
Presented with a copy of the now-withdrawn faculty resolution, Kinnear called it an "entirely self-serving" effort by the five sponsors.
MORE: Why isn't anyone showing up to Bucknell 'social injustice' conference?
Citing the resolution's language, Kinnear said: "Their stated intention was 'to provide context, through a statement of faculty values, for interpreting Handbook provisions on academic freedom, including faculty intent to protect in the tenure process those colleagues speaking out for the rights of other community members.'" (The Bucknell spokesman told The Fix the handbook is stored on a campus intranet and "nearly 5,000 people on campus have access to it.")
Kinnear said he has yet to hear back from the administration and board, including trustee Ken Freeman, about the absence in dialogue at Bucknell. Freeman did not respond to a Fix inquiry.
Andrews personifies the 'illiberal, despotic fascist he's seeking to eliminate'
The alum has made his case in letters to the editor of The Bucknellian and on the self-publishing site Medium.
"Currently, Bucknell policies prohibit students from fully exploring their 'opinions, values, and beliefs' and learning how to 'intelligently, eloquently, and respectfully' voice them," he wrote in one letter. "[T]hey will be ill-prepared upon graduation to express and question viewpoints beyond those sanctioned within the Bucknell monoculture."
The controversy from the Andrews email "demonstrates why Bucknell must adopt the [Bucknellians for Freedom of Expression] Statement," Kinnear said.
MORE: Bucknell's sorry history with free speech
In his Medium post, Kinnear said Andrews is "an intimidating and powerful authority figure" to his teenage students, who nonetheless "casts himself as a member of the oppressed underclass" to justify his rhetoric.
"He is the personification of the illiberal, despotic fascist he's seeking to eliminate from Bucknell's campus," Kinnear said.
Is @BucknellU Marcellus Andrews rearranging faces, snapping bones, #pistol whipping in @Lewisburg_PA like @Yale ?https://t.co/SsLXjmYtUb pic.twitter.com/l7PZu42O8G

— David Kinnear (@KinnearDavid) February 19, 2017
In both his Fix interview and his articles, though, the alum said he simply wants everyone else to enjoy the same freedom of expression as Andrews. "I implore President John Bravman and the Board of Trustees to remove themselves as arbiter of acceptable speech," he wrote on Medium.
"I don't see any consistency in how they apply these vague policies," he told The Fix.
Typical of the 'wide generalizations' made about conservatives
Bucknellian conservative columnist Samantha Woolford said Andrews' email comments are representative of the "wide generalizations" made about conservatives.
"He assumed something about me that is false and unfounded," she wrote. "Saying you are a conservative tends to cause people to automatically assume not only your opinions on certain matters, but also who you are as a person, in my experience," and this leads conservative students to self-censor.
In a statement given to The Tab, Dean of Students Amy Badal said the "very reason" that Bucknell "helped facilitate" the Yiannopoulos event – in the face of disinvitation demands – was because it promotes "conversation about ideas and diverse viewpoints" and critical thinking skills.
Kinnear was not satisfied with the dean's response in his letter. "Bucknell's weak official response to Andrews' disturbing email appears arbitrary and capricious because it is driven by ambiguous policies interpreted and enforced by the administration."
Other schools are considering resolutions similar to the Bucknell faculty's.
A University of Maine System board committee was scheduled to consider a statement Wednesday that would affirm the First Amendment but "prohibit speech [that] harasses others," according to the Portland Press Herald.
MORE: Bucknell prez expels students for offensive radio show
Like The College Fix on Facebook / Follow us on Twitter
IMAGE: YouTube screenshot