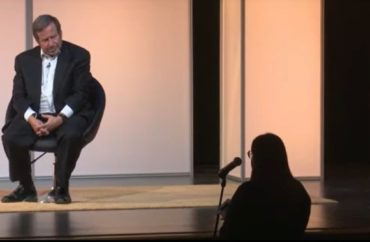 Professors and students tried to cancel Professor Steven Koonin
Professor Steven Koonin survived a cancellation attempt by climate activists at Purdue University.
Koonin, a former Department of Energy undersecretary in President Obama's administration, came to the public university to talk about a book he wrote about climate change and science.
The campus newspaper reported a healthy turnout for the event.
"Physicist Steve Koonin spoke on Tuesday to almost 200 audience members as part of the Presidential Lecture Series and argued in favor of his contrarian views on climate change," The Exponent reported.
President Mitch Daniels, a former Republican governor of Indiana, hosted Koonin. Daniels rebuffed attempts by Purdue activists to cancel the engineering professor over his views.
The New York University professor believes the climate has changed and that it has been caused primarily by humans. He urges caution and further debate about the use of science and public policymaking.
"I really invited him here because of the broader issues which it raises about the role of science, the proper role of science, the proper role of places of science like this in helping inform public decisions and in advancing knowledge generally," Daniels explained in his introduction.
"Unsettled: What Climate Science Tells Us, What It Doesn't, and Why It Matters," the new book by Koonin, explores the question of what responsibility human activity holds for weather events such as hurricanes, tornadoes and wildfires. Its primary focus is the United Nation Intergovernmental Panel on Climate Change reports.
Koonin also took questions from the audience on his book. Students who attended were able to offer their objections and ask for clarification.
Graduate student Amanda Depoian asked Koonin about how scientists could create better climate models.
"We can't do controlled experiments, but what we can do is intense observations" of a specific area. "That program has been going on for a couple of decades," through the Department of Energy, Koonin said.
"The sad part is up until very recently, the modelers have essentially ignored all that observational data," the climate researcher said.
Depoian told the campus paper that the lecture encouraged him to do further research to learn more about the topic.
"It seems like he's done a lot of research and reading the topics," Depoian said. "It makes me want to go read them myself not to confirm or deny what his work is, but just to have an unbiased opinion."
MORE: Check out the new cancel culture database
IMAGE: Purdue Lecture Series/YouTube
Like The College Fix on Facebook / Follow us on Twitter