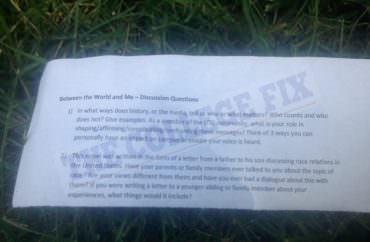 UT Chattanooga 'First Class' program
CHATTANOOGA, Tenn. – Before the fall semester even kicked off at the University of Tennessee at Chattanooga, incoming freshmen were asked to ponder race and privilege — and what they could do about it.
On Friday, the public university's freshmen orientation included a program called "First Class" that focused on the school's common reading program selection "Between the World and Me" by Ta-Nehisi Coates.
Right-leaning scholars have described the book as positing that "America is not a nice place for black people to live," and say it presents a "belief that white hatred of blacks pervades every aspect of American society, and nothing short of a revolution will end it."
With this book as a backdrop, freshmen were separated into small groups of about two dozen students each and asked to engage in "intense" conversations about the subject. Literally called "First Class," the conversations were held as part of the school's orientation program.
To facilitate the talks, facilitators led the new students to various classrooms on campus. A College Fix reporter attempted to sit in on one of the classes, but was told by a group leader the event would include "intense" conversations and that the facilitator preferred students be able to speak freely without someone taking notes on the discussion.
A sheet of questions obtained by The College Fix states the students were asked things such as "Have your parents or family members ever talked to you about the topic of race? Are your views different from theirs and have you ever had a dialogue about this with them?"
A second question asks students to think of "three ways" they can have an impact to make sure their voice is heard on campus.
"In what ways does history, or the media, tell us who matters? Who counts and who does not? As a member of the UTC community, what is your role in shaping/affirming/complicating/confronting these messages," states the prompt.
Interviews with a handful of students following "First Class" suggest the nature of the conversations differed from classroom to classroom. Some students said their groups included discussions on race, others said their conversations drifted toward other topics.
Jeremy Fargis, a first year student from Nashville, said his group briefly discussed "Between the World and Me," but that the conversation didn't touch on racial issues. He said the group's conversations focused more on the new students' fears of being at the university.
Freshman Ian Macdonald said his group didn't discuss the book at length because most students in his room indicated they didn't read it. He added that when his group leader saw that few students read Coates' book, she asked if anyone had general questions about college.
Hampton Nowack and Grant Leidheiser, both from Tennessee, said their group's discussion touched on "Between the World and Me" as well as social media and media biases. Nowack said the group's discussion included racial issues and specifically addressed the question of whether the students' parents ever sat them down to discuss race.
Leidheiser said he found the talk informative.
"Obviously, we come from different backgrounds and stuff like that so I think it's interesting to learn about who came from where and sort of our opinions and how we form them," he said.
While the event was part of the university's orientation agenda, multiple freshmen students approached for interviews said they skipped the "First Class" event.
While the "First Class" touched on controversial topics, the university's convocation had a light hearted feeling to it. During the event, both school spirit and getting involved outside the classroom were highlighted.
Chancellor Steven Angle said he hopes students get involved, telling them "don't be a spectator in your college career, but really engage with all the opportunities we have here."
MORE: University of San Francisco to host blacks-only student orientation
Like The College Fix on Facebook / Follow us on Twitter