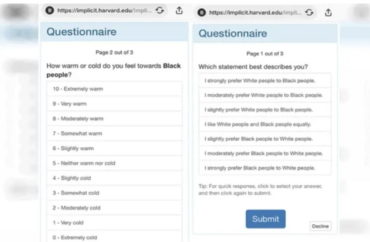 Florida State University's program coordinator for training and recruitment recently assigned Resident Assistants an implicit bias test as homework.
Florida's Conservative Voice, which obtained screenshots of the assignment from an unnamed RA, reports that their "whistleblower" said the test was required to reapply as an RA.
FSU's Office of University Communications told The College Fix that the test itself was used as a supplement to help test-takers understand the concept of bias better and was not required as any sort of litmus test.
"The test was used to facilitate dialogue that focused on bias as a general concept during a staff meeting for resident assistants. University Housing staff and resident assistants are not required to take the Harvard Implicit Association Test," Amy Farnum-Patronis, director of news and digital communications, said via email. "Completing the test is not tied to employment, nor is it required or used for student housing assignments or any other purpose."
The Harvard Implicit Association Test claims to measure the amount of racial bias of the test-taker, although critics of the exam argue the test itself is biased for its assumption that all people have implicit biases.
The test asks participants whether or not they feel "warm" or "cold" toward black people, or whether they prefer white people to black people, according to the screenshots.
The test was administered by FSU Program Coordinator for Training and Recruitment Lexie McGarvey. It was assigned as "homework" to students, according to an email acquired by Florida's Conservative Voice.
McGarvey did not respond to a request for comment. Her LinkedIn bio states she coordinates "recruitment, selection, and training of over 200 student staff members for University Housing."
Florida Gov. Ron DeSantis's press secretary, Christina Pushaw, said she believes this situation is emblematic of a larger problem in higher education institutions.
"Unfortunately, racial Marxist ideologies like CRT have infected many institutions, from schools to corporations," Pushaw told The College Fix via email. "Regardless of how rare or common it is, even one instance of discriminatory indoctrination is too much."
The implicit bias test is commonly used at universities throughout the nation.
For instance, the University of Iowa offers an implicit bias training series that includes a three-hour course titled "Exploring the Influences of Implicit Bias on Our Work and Lives." The University of Oregon offers an entire series of workshops which claim to help participants "prevent yourself from making calls based on a biased viewpoint."
The data on implicit bias training heavily suggests that these programs are ineffective.
According to research from Harvard, "hundreds of studies dating back to the 1930s suggest that antibias training does not reduce bias, alter behavior or change the workplace."
MORE: Implicit bias training in higher education 
IMAGE: Florida's Conservative Voice screenshot
Like The College Fix on Facebook / Follow us on Twitter