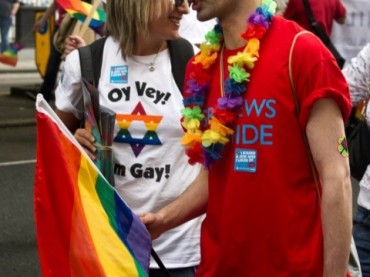 The Wall Street Journal reports:
When Syracuse University junior Aaron Goldsmith couldn't picture himself at any of his school's fraternities, he decided to start one where gay men would be in the majority.

"This is for people who might not fit in at other houses," said Mr. Goldsmith, who will launch a Delta Lambda Phi colony at Syracuse in the fall. "It's bridging a gap between activism and social life."

As people involved in Greek life on U.S. campuses seek to shed a reputation for raucous behavior and intolerant attitudes, fraternities and sororities founded by and geared toward gay people are gaining steam. Launched in 1986, Delta Lambda Phi has opened 14 of its 34 chapters or colonies since 2011 alone, according to a spokesman for the organization. (Colonies become chapters after three semesters.)

Gamma Rho Lambda, a national sorority for lesbian women, has grown to 15 chapters or colonies since opening its first chapter in 2003, a spokeswoman for the group said.
Like The College Fix on Facebook / Follow us on Twitter