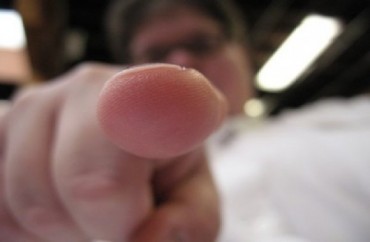 A University of Chicago "Garty" — a party "operated by and hosted for LGBTQ+ students" — has been canceled by its organizers after a campus police officer warned them of the school's underage drinking policies after he saw cases of beer outside of the venue.
According to The Chicago Maroon, the UCPD officer approached Garty organizers at the Alpha Epsilon Pi fraternity "and warned that if students engaged in underage drinking, they could be arrested and fined."
Seems pretty ordinary … except party planners bagged the event shortly after the meeting with the officer.
"Due to ~*homophobia*~…and due to us being unable to find a viable venue in time, Garty is not happening tonight," Garty organizer Jorge Ernesto Clavo Abbass, wrote on Facebook. Clavo Abbass and others wondered why the officer gave them a "preemptive" warning … "while many parties—most of them hosted by fraternities—occur regularly throughout the school year."
University spokesperson Marielle Sainvilus said the University of Chicago Police Department was unaware of the nature of the party.
"Given the history of incidents at this location, particularly with the past history of noise complaints and illegal liquor consumption by minors, the officer outlined the potential consequences if additional infractions occurred," Sainvilus said.
She added the officer did not threaten to shut down the party. Nevertheless, the "Gartiers" remain unsatisfied.
In response to Sainvilus's statement, Abbass, who overheard the UCPD interaction, said, "The way in which the officer repeatedly used the phrase 'booked and processed' was extremely threatening and at no point did the officer suggest anything having to do with hosting a 'responsible party.' Hearing the party 'outside of the gate [of AEPi's premises]' was sufficient to warrant the party being shut down, from his perspective. When we put all this together, despite the officer not explicitly shutting us down, his threats were tantamount to the same thing."

[Garty organizer Claude] Richoux, who interacted directly with the officer, also said the officer's tone was "very threatening." He added that interacting with law enforcement is especially distressing given his gender identity as a transgender male.

An AEPi representative who spoke with The Maroon characterized the interaction differently: "He was pretty firm in his warning, but I didn't necessarily think that he was threatening us, that he would do it [arrest us] then. He made it clear that it was something that would be later, if at all."
Abbass said the officer's warning "has elicited anger not just from the undergraduate student community, but also from alumni and even from faculty."
Not letting a "crisis" go to waste, Abbass posted on Facebook that Gartiers weren't going to let the situation interfere with their goal: "philanthropy intended to support the Chicago queer community."
He also noted Garty organizers planned to file a formal complaint with the university's Center for Identity and Inclusion.
MORE: Western freedoms 'violence' equal to (non-Western) homophobia
MORE: Activists: Harvard is a 'toxic space' for LGBT students
IMAGE: a2gemma / Flickr.com
Like The College Fix on Facebook / Follow us on Twitter