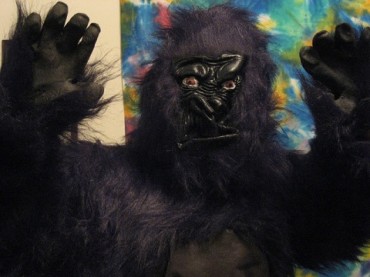 The following contains graphic material. Please be advised.
The notoriously raunchy and popular homosexual sex advice columnist and pundit Dan Savage visited the University of Oregon in mid-October, and more recently it was revealed thanks to a public records request that he was paid $24,000 for his talk, which included discussions with students about the art of fisting and gorilla suit fetishes.
The Register–Guard, the main daily newspaper for the region, reports the "University of Oregon paid nationally syndicated sex-advice columnist Dan Savage $24,000 for speaking at an Oct. 15 event at the UO, according to a copy of the contract the university released this week in response to a public records request."
"The return a university gets from sponsoring programs where students are exposed to nationally prominent resource people is in the form of sparking thought and considering new perspectives," Keith Van Norman, marketing manager for the University Health Center, told the newspaper.
"New perspectives?" That's for sure.
According to the campus newspaper The Daily Emerald, "throughout the lecture, Savage addressed questions of a wide variety of sexual topics including the importance of sexual education, to kinks and fetishes, experimentation and communication as well as same-sex marriage. As he flipped through from card to card, he answered questions dealing with the sexual act of fisting to gorilla suit fetishes; the roaring response from the audience was unanimous." But when asked how to pleasure a woman down under, Savage responded: "F**k if I know!"
But wait, it gets better – and by better we mean worse.
The Register-Guard reports the speech was also partly a launch party for the university's new smart phone app that teaches students how to have kinky sex.
Did you ever play twister as a kid? Well, toss in sex and smartphones, and you've got the University of Oregon's new SexPositive App, ostensibly developed as a sex health tool. It spins two wheels with words such as "mouth" "finger" and "penis" on one side and "toes" "vagina" vibrator" and "anal play" on the other. Match two words and have at it, basically.
The app also includes links to orgasm lectures, "remember to lube up your dam" reminders, and communication tips for that awkward moment, according to the video detailing the app on the university's website.
Videos that start to play after the initial clip introducing the app take things one step further in educating students on how to have sex. The videos show, for example, two lesbian students leaning in to each other to kiss on a couch before they stop and talk about using a dental dam for protection. In a later video, two men naked in bed talk about "slowing things down." And that's just two of the videos. There's plenty more.
Keep in mind, all this "sex ed" is on the taxpayers' dime.
Click here to Like The College Fix on Facebook. / TWITTER: @CollegeFix
IMAGE: ClutrVultr/Flickr