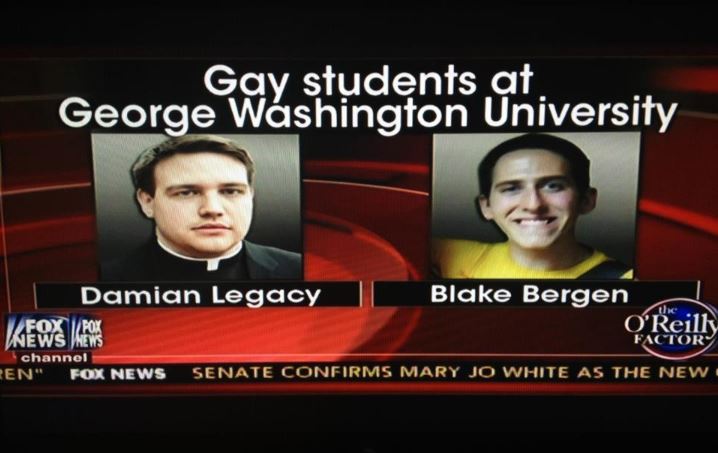 Two homosexual George Washington University seniors have made national news recently for their concerns over a campus priest who stands against same-sex marriage, with critics contending the young men have, in effect, launched an assault on religious freedom.

But in an interview with The College Fix, the students in question – Damian Legacy and Blake Bergen – said they simply feel discriminated against by the priest who heads up the campus' Catholic student center, and they are upset by what they contend is a disproportionate emphasis on the subject of gay marriage by the Catholic Church.
The undergrads are both in the early 20s. Bergen is Jewish, and Legacy is an ordained priest in the North American Old Catholic Church, a newly formed sect that seeks to offer a more inclusive Catholicism. Legacy said he has all of the same rights and responsibilities afforded a Catholic priest.
They said they have launched an effort to lobby the university to take a more active role in deciding who can be adult religious leaders on campus, so that in the future students don't feel discriminated against because of their sexual orientation, race or gender.
The men said some gay students on campus have felt intimated and ashamed because of Father Greg Shaffer's firm stance against homosexual marriage.
"We are just asking the university to act on existing policy and apply it uniformly," Legacy said, referring to the secular university's anti-discrimination policies.
Bergen said their effort aims to bring this issue to the forefront, that the university's Office of Religious Life is largely inactive and needs to take a stronger role on campus.
"I would love to see religious community on campus strengthened," Bergen told The College Fix.
They said their efforts aim to prevent a "hostile environment."
While they said they don't want to shut down the Newman Center, George Washington University's Catholic center for students run by the Archdiocese of Washington, ideally the facility would not counsel gay students nor preach openly against gay marriage.
They called news reports that say they aim to mount a campaign to boot Shaffer, a well-liked priest, off campus because he does not support gay marriage, misleading.
"Our request to the university has never been that Father Greg be removed or 'banished' from campus, as some have suggested," according to an official statement released Monday by Bergen and Legacy.
They stated all they asked for was for administrators to "assess any violation of university anti-discrimination policies on behalf of Father Greg and the Newman Center" and that campus officials implement a system which would "enable the university to vet and confirm campus religious leaders of all faiths and thus better hold them accountable to university standards." 
They said reports that they will host prayer vigils outside the Newman Center until Shaffer is removed are inaccurate, but they did say their advocacy to support their cause will continue.
Legacy said there will be prayer vigils to "show students being turned away from God's table."
"We're not attacking them, we're praying for them," Legacy said.
Their plans and efforts have so far sparked outrage across the nation, and Legacy and Bergen have received numerous media requests as a result, including from Fox News' "The O'Reilly Factor."
The students did not appear on Monday night's show due to a scheduling conflict, but published a statement in lieu of an appearance, and sent it to O'Reilly and several other media organizations.
On Monday's "The O'Reilly Factor," host Bill O'Reilly criticized the students' plans.
"This is about the priest upholding the church's teachings that homosexual acts as well as heterosexual acts outside of marriage…are not approved by the church," O'Reilly said. "It is a fascist act to demand that a college remove a chaplain because you don't like what the chaplain said. That's it."
But Fox News commentator Sally Kohn, a George Washington University alumnus, sided on air with the students' right to protest. Kohn, who is gay, expressed disdain over reports that Shaffer called the students "immoral" and "unnatural."
"I don't think he's the right person for ministering to young people," Kohn said on O'Reilly's program. But she added she did not think George Washington University's President Steven Knapp should be the one to remove the embattled priest from his post.
The Newman Center is funded in part by George Washington University's student government. It allocated $10,500 to the Newman Catholic Student Center for the upcoming school year, according to campus documents.
Father Shaffer has also received plenty of praise, including from various conservative news commentators across the nation and even a student who created a website in support of the chaplain.
Chris Crawford is the 21-year-old junior at George Washington University who started "The Chaplain We Know" website to highlight positive student testimonies of Father Shaffer as a loving, effective, and open-minded chaplain – despite all the bad press.
Students, neighbors, and total strangers have posted their anonymous testimonials on the website. Some of the most recent testimonials came from students who have disagreed with Father Shaffer, but ultimately respected him and supported him.
"The news stories promote a narrative suggesting that he is trying to push gay people out of the Newman Center and that he is out of touch," Crawford said in an interview with The National Catholic Reporter. "(But) he will help anyone on campus, no matter their race, religion, gender or sexual orientation."
One of the testimonials was from an alumnus who recounted a destructive relationship senior year and how Father Shaffer had to tell that person what he needed to hear "to get out of that relationship and to live in what Father called freedom."
Another testimonial came from a South American international student who was "angry" at how the Archdiocese of D.C. represented the Church on abortion and ultimately wrote a less-than-kind email to Father Shaffer. The student wrote he was shocked at Shaffer's response, which was not defensive but thankful to the student for being open and honest.
Father Shaffer has declined to speak publicly on the matter at this time.
The university's office for diversity and inclusion is currently reviewing the case, but George Washington University's media relations spokeswoman Michelle Sherrard declined to comment on its status.
Students on campus are mixed on the issue. Some have grumbled in the quad that they are sick of hearing about it, while others have said it's an important battle, and still there are those who say the movement would infringe on religious freedoms.
Fix contributor Katherine Rodriguez is a student at George Washington University.
CLICK HERE to Like The College Fix on Facebook.
IMAGE: Fox News