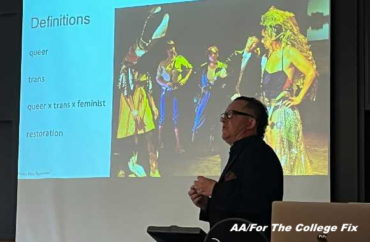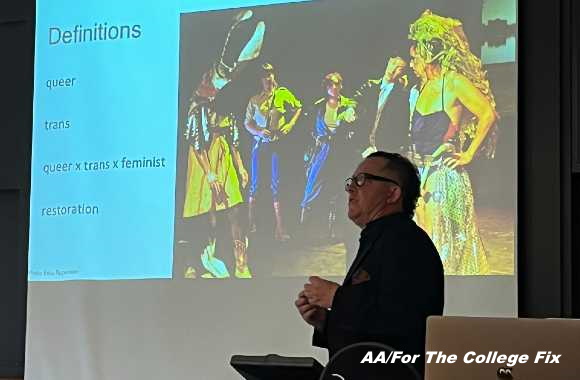 Speaker previously performed as a 'salmon oracle' in the installation 'Tell a Salmon Your Troubles'
PRINCETON, N.J. — A "queer-trans-feminist river scientist" discussed research grounded in a "queer and trans focus on love and grief for rivers and fish" at a recent Princeton University-hosted event titled "Underflows: Queer and Trans Among Rivers."
The featured speaker, Cleo Wölfle Hazard (pictured), is a "queer-trans-feminist river scientist" and assistant professor of equity and environmental justice at University of Washington, Seattle, whose work focuses on "how queer trans feminist thought can transfigure ecological science as it's used by Indigenous and non-Native practitioners in river management," according to Wölfle Hazard's university page.
Princeton students enrolled in the environmental studies course "Field Seminar in Regional Environmental Politics" were required to attend, according to Jerry Zee, the professor, who introduced the talk.
"Cleo's work points to environmental studies as a place that can foster pathbreaking cross-disciplinary conversations where, in fact, no one has final authority or expertise, and so people need to be brave and also humble to speak with each other," Zee told The College Fix via email.
In it, Wölfle Hazard compared "gender confirmation surgeries" to ecological restoration, arguing transgender bodies are similar to bodies of water.
"When I pay my surgeon to cut my penis into a neo-vagina, I am moving toward myself through myself," Wölfle Hazard said, quoting gender studies theorist Eva Hayward.
"What if restoration was the watershed becoming more itself through these different cuts and scars that humans might enact with bulldozers and rerouting channels?" Wölfle Hazard asked.
Princeton's High Meadows Environmental Institute hosted the event on Tuesday as part of its Environmental Humanities and Social Transformation Colloquium, a multidisciplinary series dedicated to explore work that is "animated by — or intersects with — issues central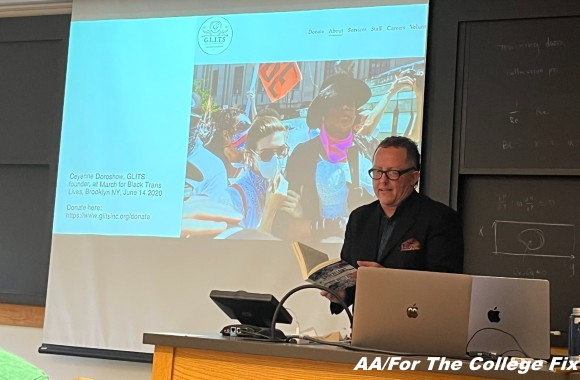 to the environmental humanities."
The event drew upon the speaker's recent book, which explains "why rivers matter for queer and trans life." The book's "core argument" is that "in order to become more adept at centering justice, sovereignty, and adaptability, river sciences should engage with queer and trans theory." The book offered "innovative ways" to "disrupt settler colonialism and new visions for justice in river governance."
Wölfle Hazard began with a land acknowledgement: "[I'm] grateful to be an uninvited guest on Lenape territory here in Princeton."
The professor described the fieldwork methods of "place-based intergenerational learning" and "centering tribal knowledge and sovereignty and using a combination of indigenous and western science."
"I'm really interested in how is it different or is it different to do science in the field as a queer person or as a trans person, and are the questions different," said Wölfle Hazard.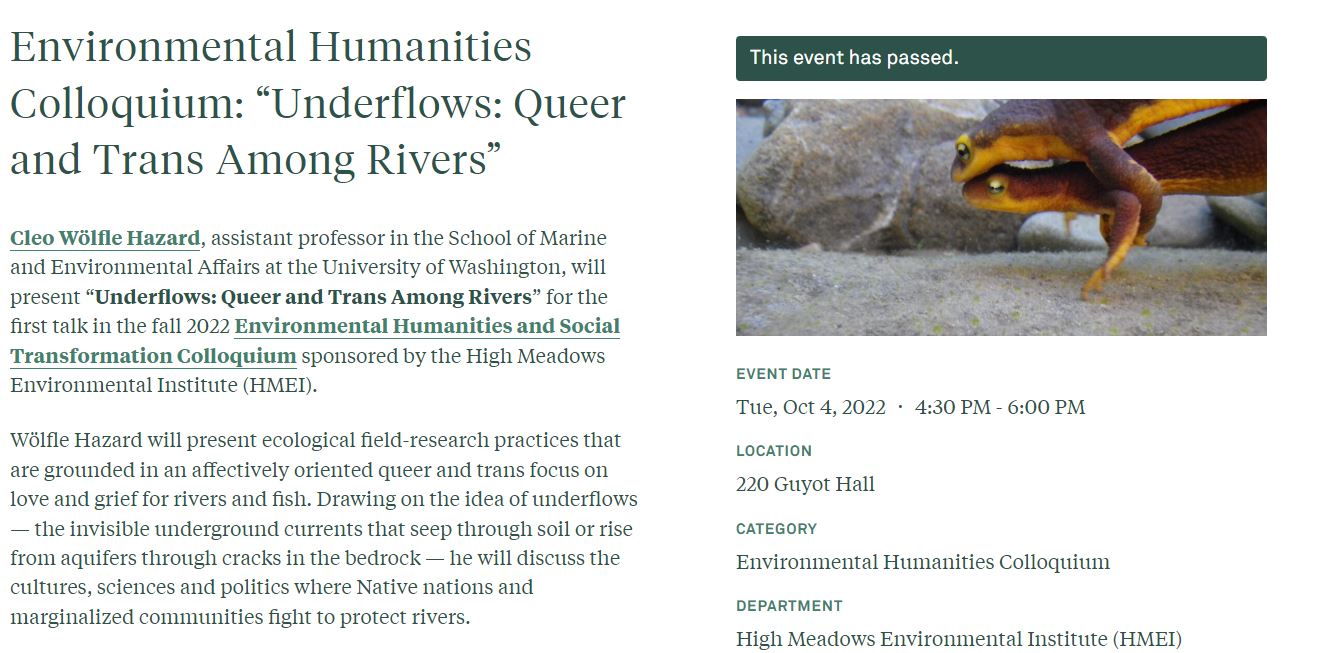 The scholar presented several "core questions" for approaching research, including "what politics of solidarity can queer trans feminist tactics bring into river science and management," "how might queer and trans modes of relation among and beyond the human reshape science and governance along rivers" and "how might taking science and field practice seriously as grounds for queer and trans ecological thought reshape queer, trans, and environmental studies?"
The presentation included a slide featuring Ceyenne Doroshow, founder of Gays and Lesbians Living in a Transgender Society, or GLITS, an organization dedicated "the health and rights crises faced by transgender community members and the sex worker community" and focused on addressing "the stigmatization and criminalization of trans people because of anti-prostitution/anti-sex work laws," according to its website.
The slideshow included a link indicating how to donate to GLITS.
Recounted acting as a 'salmon oracle'
Wölfle Hazard recounted acting as a "salmon oracle" in the performance art installation "Tell a Salmon Your Troubles," first staged at the Bay Delta Science Conference in 2014. The salmon performer could not talk, but turned over stones which revealed prompts such as "Are you troubled by your data?" and "Do you like to swim?"
Scientists attending the conference would proceed to talk to the salmon. Later, Wölfle Hazard and July Hazard presented the scientists' responses to actual salmon "by reading, by playing voice recordings underwater, and by dragging written messages behind our canoe."
"I'm still trying to figure out what I just heard," one attendee, an environmental engineer who graduated from Princeton, said in the question-and-answer period while asking a question about infusing environmental science with liberal arts.
"I'd give it a B-minus," he told The Fix after the event.
"I loved the talk," Zee told The Fix. "I felt that Cleo allowed people to ask really eclectic searching questions with grace and also without posturing. It was a wonderful example of one of the ways I hope environmental studies, across its many fields, can learn and contribute to reshaping our relationship to this planet."
MORE: Northwestern launches 'Transgender Studies' journal
IMAGE: Abigail Anthony for The College Fix
Like The College Fix on Facebook / Follow us on Twitter