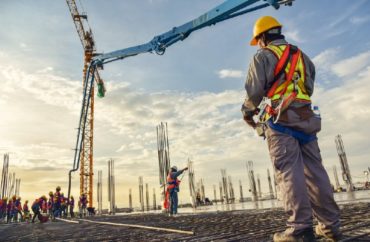 Cut red tape, create more jobs
A college professor believes that he has a solution to put men without college degrees back to work in blue-collar jobs – particularly those who "feel out-of-place in the modern service economy."
Professor Bryan Caplan, a George Mason University economist, wants to see a deregulation of the building and construction industry, which he argues will boost job opportunities for men without college degrees without requiring massive government subsidies.
He laid out his ideas in a Substack article and provided further commentary to The College Fix via email. Caplan regularly writes and talks on the problems in the housing industry and how deregulation would help Americans.
"What makes me so sure that housing deregulation would be great for non-college males?" Caplan wrote. "Because non-college males build almost all our housing! Over 80% of all construction jobs are non-college already – and almost 90% are male," he said, citing statistics from the Department of Labor.
"Non-college men do almost all construction jobs, so anything that allows more building almost automatically employs more of them," Caplan reiterated in emailed comments to The Fix. "Fewer height limitations, more multi-family, lower minimum lot sizes, shorter delays," are some of the regulations that could be removed to increase construction activity.
By removing government regulations that hinder construction, Caplan argues, one to two million jobs could be created and greatly grow the industry. This is because construction is not constrained by technological developments. Rather, individuals, especially men, will always be involved in construction projects
"Even modest relaxation of existing regs could swiftly create one or two million more well-paid working-class jobs," he wrote. "The radical housing deregulation I champion could easily double the size of the construction industry for decades."
The increase in activity would then lead to higher wages due to increased demand for workers. "That's how businesses attract lots of new workers," Caplan told The Fix. He predicted that removal of construction barriers would begin to have a positive impact in six to twelve months.
MORE: Appreciate blue-collar work and trade schools, student says
This idea would be more beneficial than trying to subsidize manufacturing in the Rust Belt, Caplan said.
"Because there just isn't much demand for more standard industrial products; we've enjoyed many decades of progress and stocked up," Caplan said. "If WalMart cut the prices of manufactured products in half, you wouldn't want to double your inventory, would you? Housing, in contrast, has been so strangled that people are eager for more, especially in desirable locations."
"If the price of housing in NYC fell in half, millions of people would want to live there – and millions of people now there would want to upgrade to bigger places," he predicted.
He pointed to Texas as one state that has increased its male employment in the construction industry versus "states like California with little construction. It's basically just arithmetic."
However, there is room for California to grow. "Just imagine all the honest toil required to demolish those silly two-story homes in San Francisco and replace them with skyscrapers," Caplan proposed in his essay.
MORE: Students take advantage of corporate work programs to pay for college
IMAGE: Bannafarsai_Stock/Shutterstock
Like The College Fix on Facebook / Follow us on Twitter