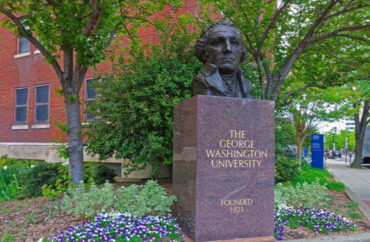 Also told the Albanian student group it had to update its club constitution
George Washington University has given 23 student groups, including a number of female-led student groups, until December to amend their club constitutions to comply with the school's nondiscrimination policy.
Anne Graham, the university's director of student involvement and leadership, told the groups in mid-September that their constitutions had to be updated by December 14, according to student paper The GW Hatchet. The private college in D.C. also asked ethnic-identity student groups to amend their policies.
Graham did not respond to multiple emailed requests for comment from The College Fix in the past week seeking a full list of groups that were out of compliance and an update on how many had amended the policies.
While The Fix did not receive a full list, several of the groups were named in the Hatchet article.
The targeted groups include the Albanian American Student Association, Girls Who Code College Loop and the League of United Latin American Citizens, according to the Hatchet.
MORE: George Washington U. student government leader removes pro-Armenia post
"Graham said the groups' governing policies have 'selective criteria' for members allowed in the organization," the Hatchet reported.
The criteria "did not align with GW's policy, which states organizations can't discriminate against any person based on criteria, like race or religion," according to the student paper, which obtained a copy of Graham's email.
The email told groups they "cannot use sex, gender, gender identity or gender expression" in determining group membership, according to The Hatchet.
A club constitution must have a clause that states:
[The student group] does not unlawfully discriminate against any person on any basis prohibited by federal law, the District of Columbia Human Rights Act, or other applicable law, including without limitation, race, color, religion, sex, national origin, age, disability, veteran status, sexual orientation, or gender identity or
expression.
None of the groups contacted by The Fix responded to requests for comment.
Girls Who Code College Loop did not respond to multiple emailed requests for comment from The Fix seeking a response on if the group believes it should be exempted from the nondiscrimination requirement.
The campus Albanian American Student Association did not respond to an emailed request for comment on Wednesday morning. The school's League of United Latin American Citizens did not respond to an email to its club email nor to its listed president's email on Wednesday morning.
MORE: Liberal GWU student group blasts other liberal student groups as 'too white'
Women in Finance did not respond to multiple emailed requests for comment on if it was asked to change its club constitutions. Delta Phi Epsilon, identified by the Hatchet as a "professional foreign service sorority," did not respond to multiple emailed requests for comment.
A civil liberties nonprofit told The Fix that university officials should be careful not to trample on freedom of association.
Azhar Majeed, the vice president of policy reform for the Foundation for Individual Rights in Education, told The Fix via email that colleges can have nondiscrimination policies but should be careful not to infringe on freedom of association.
"We take no issue with universities requiring groups not to discriminate on the basis of race, gender, and other personal characteristics," Majeed said. However, "universities must not prevent groups from associating around shared beliefs and viewpoints."
"I find it problematic when universities use such non-discrimination policies to prohibit student groups from 'discriminating' on the basis of belief or viewpoint," such as choosing group leaders based on individual beliefs," Majeed said.
He explained that "such association around shared viewpoints is protected by the First Amendment's freedom of association" and should "likewise be protected at private institutions that promise free speech, as GW does."
It's not the only time the student activities office and Graham have cracked down on student group policies.
In 2018, Graham required all groups "to make rules to expel students for discriminatory behavior and sexual assault," the Hatchet reported.
MORE: Yale under federal investigation for discrimination against men in several programs
IMAGE: Roman Bababkin/Shutterstock.com
Like The College Fix on Facebook / Follow us on Twitter