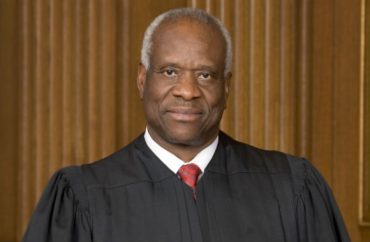 George Washington University will not cancel Supreme Court Justice Clarence Thomas.
"[T]he university will neither terminate Justice Thomas' employment nor cancel his class in response to his legal opinions," GWU Provost Christopher Bracey and Georgetown Law School Dean Dayna Bowen Matthew stated in an email to the campus community sent Tuesday.
The announcement came in response to a student-led petition calling for Thomas to be fired. Thomas is an adjunct professor of law at GWU and teaches a Constitutional law seminar.
In addition to the petition, the GWU administrators stated there's been requests to campus leaders calling for Thomas' firing.
"Many of the requests cite Justice Thomas' concurring opinion in Dobbs v. Jackson Women's Health Organization, in which he called the substantive due process doctrine a 'legal fiction.' Justice Thomas has been a consistent critic of the Court's legal philosophy on substantive due process for many years," their memo stated.
"Because we steadfastly support the robust exchange of ideas and deliberation, and because debate is an essential part of our university's academic and educational mission to train future leaders who are prepared to address the world's most urgent problems, the university will neither terminate Justice Thomas' employment nor cancel his class in response to his legal opinions."
The memo continued:
Justice Thomas' views do not represent the views of either the George Washington University or its Law School. Additionally, like all faculty members at our university, Justice Thomas has academic freedom and freedom of expression and inquiry. Our university's academic freedom guidelines state: "The ideas of different faculty members and of various other members of the University community will often and quite naturally conflict. But it is not the proper role of the University to attempt to shield individuals within or outside the University from ideas and opinions they find unwelcome, disagreeable, or even deeply offensive."

Just as we affirm our commitment to academic freedom, we affirm the right of all members of our community to voice their opinions and contribute to the critical discussions that are foundational to our academic mission.
The student petition had argued that with "the recent Supreme Court decision that has stripped the right to bodily autonomy of people with wombs, and with his explicit intention to further strip the rights of queer people and remove the ability for people to practice safe sex without fear of pregnancy, it is evident that the employment of Clarence Thomas at George Washington University is completely unacceptable."
The Change.org petition had over 6,400 signatures as of Tuesday evening.
"While also factoring in his wife's part in the attempted coup in January of 2021, Judge Thomas is actively making life unsafe for thousands of students on our campus (not to mention thousands of campuses across the country)," the petition added.
In a news release, George Washington University public interest law Professor John Banzhaf said he is pleased with his institution's "decision to stand up to this latest incident of cancel culture."
Banzhaf said it reaffirms "the rights of 'all faculty members at our university' to 'academic freedom and freedom of expression and inquiry,' including to express ideas some may find unwelcome, disagreeable, or even deeply offensive."
MORE: Academics throw tantrums over Supreme Court's Roe v. Wade reversal
IMAGE: U.S. Supreme Court
Like The College Fix on Facebook / Follow us on Twitter