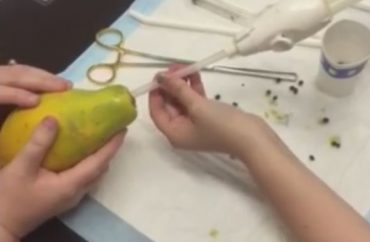 Controversial event drew protest at Catholic institution
Georgetown University was set to host a controversial workshop teaching how to perform abortions by using papayas as training props, but organizers were told by officials to relocate off campus.
"Consistent with our Catholic and Jesuit identity, Georgetown University does not support or allow for the demonstration or training of abortion procedures in any classroom or reservable space on our campus," Georgetown University's media relations office told The College Fix.
"The student organizers of this event were notified that the Papaya Workshop is not permitted to take place in reservable campus spaces."
Wednesday's workshop aimed to "demystify manual vacuum aspiration (MVA) abortions, which are commonly used for abortions performed in the first 12 weeks of pregnancy," according to the event's Facebook description, which was set to private last week after organizers were told they could not host it on campus.
"The workshop will be led by a doctor and abortion provider from the Reproductive Health Access Project (RHAP) who will debunk common misconceptions about abortion and perform a demonstration of the procedure on a papaya," it noted, adding, "Pizza will be provided!!"
Since 2005, the project has hosted "Papaya Workshops" at campuses and workplaces throughout the country.
These controversial seminars use papayas to teach participants how to perform abortions, birth control implants, and "other gynecologic skills," according to its website.
Based on a paper by University of California, San Francisco professors, which noted that the tropical fruit could serve as a "simulation model" for abortion due to its composition, Papaya Workshops aim to reduce "abortion stigma."
A pro-life stance is still the official university policy at Georgetown, but pro-choice activists have been increasingly pushing the boundaries of this position in recent years.
A previous attempt last year to bring the programming to Georgetown University, the nation's oldest Catholic university, also failed – despite a petition receiving 1,760 signatures.
Georgetown's media affairs office noted this in its statement to The College Fix, saying campus leaders' decision last week "is consistent with the university's response to a request from medical students to host a similar workshop in April of 2019."
The workshop had certainly caused controversy among Georgetown watchdogs.
TFP Student Action (part of the American Society for the Defense of Tradition, Family and Property) had started a petition against the workshop and had planned a peaceful protest of it before its relocation.
"How can a Catholic university such as Georgetown allow this event on campus? It normalizes the murder of innocent and defenseless unborn babies," the petition stated.
TFP Student Action Director John Ritchie expressed relief that his organization played a role in stopping the event on campus, but dismay that Georgetown may not have done anything on its own, telling The College Fix that if "TFP Student Action hadn't sounded the alarm bells, I think the disgraceful abortion class would have happened."
He added "it's a good first step, but not enough."
In a public statement, the Georgetown Right to Life board also praised the decision to remove the papaya abortion workshop from campus.
"RTL would like to thank the administration for upholding the university's mission to protect the most vulnerable in our society — in this case, the pre-born," the statement read in part.
The views in this article do not represent those of the Department of Defense or the United States Army.
VIDEO: Students at Catholic university perform mock abortions
Like The College Fix on Facebook / Follow us on Twitter