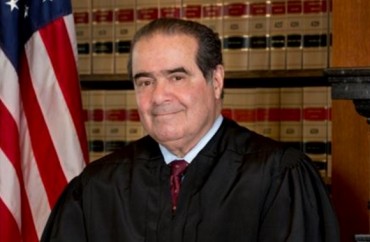 A Georgetown University law professor called Supreme Court Justice Antonin Scalia a "defender of privilege, oppression and bigotry" in an email Tuesday to the campus community, Young America's Foundation reports.
The professor fired off the angry missive because he was upset Dean William Treanor had mourned Scalia's death in a press release Saturday titled "Georgetown Law Mourns the Loss of U.S. Supreme Court Justice Antonin Scalia."
"Scalia was a giant in the history of the law, a brilliant jurist whose opinions and scholarship profoundly transformed the law," Treanor had said.
In response, Georgetown law professor Gary Peller sent an email to the campus community to rebut Treanor's comments. Young America's Foundation obtained a copy of the email, which stated in part:
I imagine many other faculty, students and staff, particularly people of color, women and sexual minorities, cringed at headline and at the unmitigated praise with which the press release described a jurist that many of us believe was a defender of privilege, oppression and bigotry, one whose intellectual positions were not brilliant but simplistic and formalistic.

I am not suggesting that J. Scalia should have been criticized on the day of his death, nor that the "community" should not be thankful for his willingness to meet with our students. But he was not a legal figure to be lionized or emulated by our students. He bullied lawyers, trafficked in personal humiliation of advocates, and openly sided with the party of intolerance in the "culture wars" he often invoked. In my mind, he was not a "giant" in any good sense.
Like The College Fix on Facebook / Follow us on Twitter