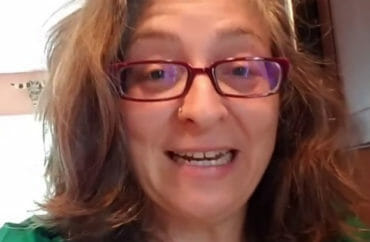 Glad that she 'left my humongous vibrator at home'
Christine Fair speaks against injustice wherever she sees it, whether it's telling a Donald Trump-voting Muslim colleague at Georgetown University to "fuck yourself" or harassing an alt-right leader at the gym.
Now her vocal principles – and her carelessness with uttering "Nazi" in Germany, like "bomb" in an airport – have gotten the foreign policy professor in trouble with German authorities.
Federal German police said they were investigating Fair for her allegations that they robbed and used thuggery against her as she was passing through the Frankfurt airport earlier this month.
German authorities claim her "hand luggage" drew an "explosive material" warning, but Fair was actually just transporting too many liquids in her carry-on:
As a solution, the officers suggested that the passenger store a roll-on deodorant item in her check-in luggage instead of her carry-on luggage – to remain within the allowance for liquids. Alternatively, she could voluntarily decide not to transport the deodorant and dispose of it on site.

The U.S. passenger reacted angrily towards these suggestions and became increasingly uncooperative. She began to insult the Federal Police officers, by calling them, among other names, "fucking bastards" and "fucking German Nazi police", as witnesses can confirm.
MORE: Georgetown prof accused of cyberbullying pro-Trump Muslim colleague
Fair paid $260 to cover "anticipated costs of the legal proceedings" for alleged slander against German officers, and continued on her trip, but her subsequent gripes against the police on the internet "have also become evidence in the preliminary investigations," the federal police said.
The Georgetown professor has gone on a tear to complain about her treatment, turning her wrath against German authorities in a Huffington Post essay that said she was "literally framed, arrested and, for all intents and purposes, robbed by the Frankfurt airport and German state police."
She shared her broader dismay about how "execrable" the Frankfurt airport is, that "my breasts [were] patted down officially" during screening, and the "leisurely saunter" of the police to actually check her bags after she was pulled out of line.
Fair also expressed relief that she "left my humongous vibrator at home" as police rifled through her luggage, and shared with the HuffPo audience that her "irregular" periods bring "crazy deluges."
After arguing with rude police for a while, Fair muttered to herself that they were ignoring an American in line with a "Hitler's youth haircut," which should have set off alarm bells because "It is illegal in Germany to be a Nazi or act like a Nazi."
Police mistook her muttering about "that Nazi-looking dude" for defamation against an officer, promptly arrested her, and then alleged she illegally called the officer "Fucking Nazi German police," according to Fair, who included documentation of her arrest in the post:
This actually happened—not in Kabul, Lahore or Chicago—but at the airport in Frankfurt, a major city in one of Europe's most important democracies known for its fastidious adherence to the rule of law.
MORE: Christine Fair brags about harassing Richard Spencer at the gym
I was falsely arrested for having the temerity to file a customer service complaint against the thuggish officer Austrav of @bpol_air_fra, defamed by S. Kapoor (a perjurer) who was NOT charged, and basically robbed by cops..not in Kabul..but FRANKFURT. https://t.co/RWKW8kyFdc

— (((Christine Fair))) (@CChristineFair) January 25, 2018
Now on its third time having to respond to Fair's public spats, Georgetown University told The Washington Post that the professor's views expressed in her "private capacities" are not the university's:
"While Georgetown is committed to free speech and expression, we do not approve of or endorse every statement made by our faculty members," the statement said. "We are also deeply committed to the safety, security and well-being of each member of our community."
Fair told the Post she thought German authorities invented a "preposterous story" about her impermissible liquids so they could portray her as "an Ugly American."
She said she was planning to meet with the German Embassy today:
"I am certainly known for confrontation, but I own my confrontations," she said. "This is absolutely slanderous allegations, and I'm going to be pursing this legally."
Read the German press release, Fair's article and Post writeup.
MORE: Muslim Students Association blackballed Islamic feminist's speech
IMAGE: C. Christine Fair/YouTube
Like The College Fix on Facebook / Follow us on Twitter