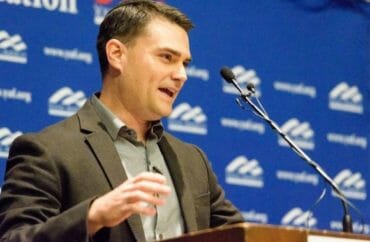 A recent student op-ed in Georgetown University's student newspaper called for student organizations to revoke their speaking invitation to conservative political commentator Ben Shapiro, who is slated to discuss campus free speech issues.
The Hoya reported that the Georgetown University College Republicans, the Young America's Foundation, and the Lecture Fund are co-hosting the event, scheduled for March 21.
Shapiro will be discussing free speech on college campuses, and "how he believes it is essential to promote and preserve constructive conversations on college campuses about the pressing issues of our time," according to the event's Facebook page.
The same day that The Hoya broke the story, Claire Hazbun, a sophomore in the University's School of Foreign Service, wrote an op-ed in the paper titled "Student Groups Must Disinvite Shapiro."
In the op-ed, Hazbun argued that Shapiro is "openly racist, Islamaphobic and transphobic. Bringing Shapiro, a former editor-at-large of Breitbart News, to Georgetown only normalizes such hate."
Hazbun also pointed to Shapiro's refusal to address a transgender woman by the woman's preferred pronouns as further evidence that he should be disinvited, along with a tweet that stated that "Israelis like to build settlements. Arabs like to bomb crap and live in open sewage."
In an email to The College Fix, Hazbun wrote that she asked student groups to take it upon themselves not to invite Shapiro.
"I am not saying that student organizations have a responsibility to disinvite Shapiro simply because he has conservative principles," she wrote. "I am saying that student organizations have a responsibility to disinvite Shapiro because an integral part of his persona is being racist, transphobic, homophobic, and Islamophobic."
Her op-ed had pointed to conservative figures like Jeff Flake or David Brooks as more appropriate speakers.
"An invitation to Shapiro lends legitimacy to his clear, unabashed bigotry," Hazbun wrote.
Shapiro's invitation to Georgetown comes in the wake of protests against his Fall 2017 appearance at UC Berkeley, where police arrested nine protesters, including four on weapons possession charges and one for suspected battery. Shapiro was allowed to appear and speak.
UC Berkeley did offer counseling to students who felt endangered by Shapiro's appearance. The university also shut down buildings and parking lots around the hall in which Shapiro was appearing and provided "alternative options" for faculty and students to engage in their regular routines "without fear."
Georgetown has not yet released any plans for counter-events or resources for students. There is talk among some on campus that protests against Shapiro's speech will take place as the event draws near.
Two years ago, Georgetown hosted Cecile Richards, the president of Planned Parenthood. The appearance drew criticism from the Cardinal Newman Society, to which the university responded that it was committed to "the free exchange of ideas, even when those ideas may be difficult, controversial or objectionable to some," The Washington Post reported.
Aiden Johnson, the chair of the Lecture Fund at Georgetown, told The Fix in an email that the organization's support is not an endorsement of a set of beliefs or a viewpoint. It is "a commitment to giving students the chance to interact with a speaker and to develop their own beliefs about the topic being discussed."
MORE: University exiles Shapiro to distant venue 
MORE: Georgetown clamps down on pro-life activists
IMAGE: Courtesy of YAF
Like The College Fix on Facebook / Follow us on Twitter