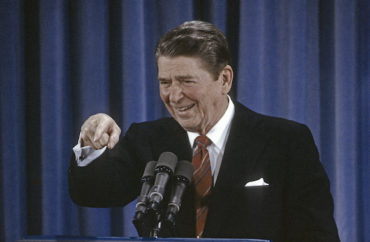 About two weeks ago, a Georgetown University student began a Change.org petition to rename Ronald Reagan Washington National Airport for "Dance Moms" star JoJo Siwa.
The petition's statement includes just one line: "Why on earth is there an airport named after this war criminal."
Dylan Long told the student paper The Hoya he was just "messing around" and "decided to create a petition." To his surprise, it really took off; currently, it has 5,440 signatures out of a requested 7,500.
Long said Siwa is a "good choice" for the airport's moniker as she's a "recent rise as a new LGBT figure."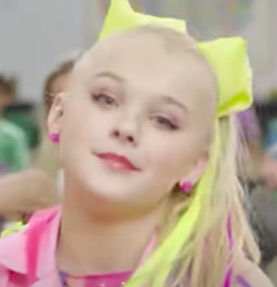 "I really did not put too much thought into who it was, but my reasoning for picking JoJo Siwa (at left) was related to the fact that Reagan in his presidency did a lot of really terrible things with regard to the LGBTQ communities, specifically with the HIV and AIDS pandemic," Long said.
Ultimately, Long added, the petition may serve as a little push in "creating more awareness of Reagan's discriminatory policies."
The Hoya picks up on Long's point about AIDS, noting criticisms that Reagan's administration allegedly cut health funding during the epidemic and made jokes about it. It also notes how Reagan fired 11,000 air traffic controllers in 1981 after declaring their strike "illegal."
MORE: Effort to remove Reagan, Thatcher busts meets resistance at Chapman U.
It's difficult to decide which is sillier — Long's off-the-cuff activism, such that it is, or the fact that The Hoya takes it seriously. The paper actually sought comment from the airport and Siwa about the effort, and the petition itself is chock full of … insightful comments such as:
"Ronald Regan [sic] rigged the economy for the rich and screwed over everyone else. Jojo Siwa was on Dance Mom's [sic] and I like her better. Plus she's gay."
"I'm signing because it's what's right."
"Reagan was a terrible man and JoJo seems nice."
"Jojo Siwa has done more for the American public than Ronald Reagan ever did."
"I'm signing because Ronald Reagan is a terrible person, and I think it'd be funny if it was named after Jojo Siwa."
"We need to move forward from the destructive capitalism and hatred wrought by Ron."
Long said even if Siwa isn't the best choice for a new name he "just really hope[s] to get people talking about making some sort of change to the airport name just to get Reagan's name off of it."
MORE: Berkeley students recount how professors bash Reagan, Republicans
IMAGES: mark reinstein / Shutterstock.com; Its JoJo Siwa / YouTube screencap
Like The College Fix on Facebook / Follow us on Twitter