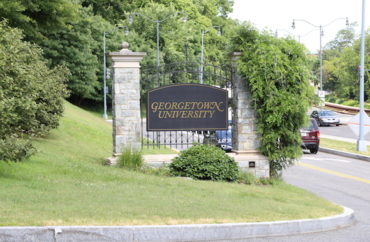 Thighbone may have belonged to slave
Georgetown University apparently kept silent for nearly half a decade on the discovery of human remains on the school's campus, neglecting to inform the university community on the finding of what was likely an enslaved person's thighbone.
The discovery, which dated to 2014, was revealed this week in an article in The Hoya, Georgetown's student newspaper. Workers had discovered the thigh bone that year while breaking ground on a new campus residence hall.
The crew in charge of the construction "had already known that the discovery of human remains would be a possibility," according to The Hoya, due to the work taking place over what was once a graveyard on campus. The burial ground was segregated, intended only for black people, including slaves.
Many of the human remains in the graveyard had been "removed in 1953 to make room for the university's expansion near what is now the Reiss Science Building," The Hoya reports. However, "only a fraction of the bodies buried in the area were recovered; out of the over 900 people buried at the College Ground, only about 50 were discovered and transferred to Mount Olivet Cemetery in 1953," according to a local historian.
The discovery of the bone, and subsequent testing that revealed it to belong to "a male of indeterminate ancestry between the ages of 35 and 49." Georgetown, however, did not disclose the discovery to the campus at the time.
"The previously-undisclosed discovery of human remains has raised questions about the level of care the university took to memorialize the site and publicize the finding," The Hoya states, noting that members of a slavery task force on campus "were not alerted about the discovery of the human femur on the site of the Old College Ground, which occurred in 2014, before they convened."
"However, while in session, the group was informed of the discovery of additional bones, which were determined to be animal remains," the paper states.
Read about the discovery here.
MORE: Georgetown U. slave descendants want reparations in the form of $1 billion scholarship fund
IMAGE: DavidNNP / Shutterstock.com
Like The College Fix on Facebook / Follow us on Twitter