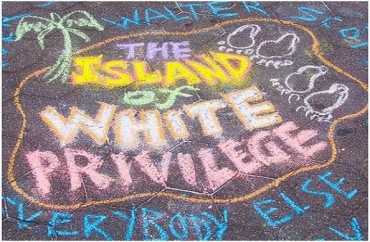 The 18th annual White Privilege Conference makes its way to Kansas City later this week, complete with one-sided speakers and inherent progressive contradictions.
For example, take note: The contemporary academic infatuation with — and need for — "safe spaces" is seemingly of no consideration when it comes to discussing white privilege.
Seft Hunter, executive director of Kansas City's Communities Creating Opportunity, told The Kansas City Star that "everyone's pain and discomfort is a good place to start the talk."
"[Y]ou have to legitimize discomfort as an appropriate way to feel," he said.
You also have to be fairly privileged to attend this confab — cost for full session admission is $230 for students and $400 for non-students.
CCO and other Kansas City organizations have been laboring in causes of social justice for years, and the White Privilege Conference is a chance to learn strategies that help draw diverse communities into the same space in challenging, but safe, ways, [Marquita Brockman] Taylor said.

So often, she said, one racial or economic group will be the comfortable hosts of a gathering and another group is the awkward visitors wondering if they really belong.

But at these conferences, "all are uneasy," she said, and that's a good thing.

"You can open up and tell the truth," she said. "You can ask, 'What is it like being a black person?' 'What do you think of me as a white person?' You will learn something."

It was hard at the Philadelphia conference, looking at people not like herself and telling each other what they thought of their nationalities, their race, their ethnicities.

Media are not permitted in to record the sessions. No interviews are allowed of participants. The intentions are to let people feel protected in exposing their fears and misunderstandings.

The sessions will be mixed race and gender, but the attendees gather in separate demographic groups to debrief at the end of each day.
And does this surprise anybody: "The conference is popular with academians, teachers and college professors, students, social workers, community organizers …"
Also "surprising": Featured speakers at the gathering include Michael Eric Dyson, Glenn Singleton, and Ahmer Ahmed.
Dyson, the most recognizable name on the roster, is a regular racial grievance pundit on cable news who once referred to police killings of black men as a "plague" due to their frequency.
Singleton is the mastermind behind the Pacific Educational Group's "Courageous Conversations" which, in a nutshell, blame white teacher culture and racism for minority underachievement in schools.
Ahmed, "an intercultural diversity consultant, college administrator, facilitator, poet and Hip Hop activist," was featured in the racism documentary "Cracking the Codes" directed by Shakti Butler. Dr. Butler's claim to fame, so to speak, came in 2007 when it was revealed her materials provided the basis for the University of Delaware's notorious "Residence Life" program.
MORE: Today's celebration of big ol' booties an example of 'white privilege'
MORE: White people who acknowledge their white privilege actually show their white privilege
Like The College Fix on Facebook / Follow us on Twitter
IMAGE: waywuwei/Flickr