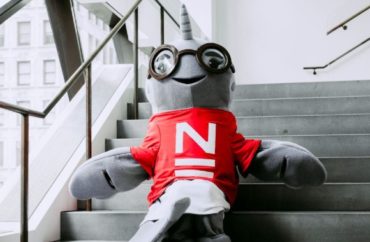 The private art university announced its newest mascot
The New School is a "progressive" private art and theatre university in New York and it has a new mascot to match.
"Gnarls Narwhal (they/them) is the official mascot for The New School, a social justice advocate, and the first and only sea mammal to earn a BA/BFA dual degree from The New School," the university recently announced. It's a redesign of the art school's previously used narwhal mascot.
Narwhal has also been a victim of climate change, according to the university's description of the mascot's life.
"The year Gnarls was born, data from NASA's GRACE satellites revealed that ice sheets in both Antarctica and Greenland were beginning to lose substantial mass," the school said. "By the time Gnarls was 12 years old, the Arctic home of the Narwhal family had seen distressing levels of ice loss. This environmental catastrophe forced Mor, Far, Gnash, and Gnarls into an Odyssean journey to find a hospitable alternative to their familiar frozen waters."
Gnarls also learned during his time at the New School how to be a political activist.
The new Mascot "serv[ed] as an advocate for students and all of their scholarly and extracurricular activities, an attendee at political protests, and ambassador for oceanic lifeforms."
New Year, New GNARLS! ✨

Get to know our mascot, Gnarls Narwhal (they/them), a social justice advocate and the first and only sea mammal to earn a BA/BFA dual degree from The New School! They can't wait to see you on campus this fall: https://t.co/ZWt6o2IoCB pic.twitter.com/XRa7iAR1rc

— The New School (@TheNewSchool) August 23, 2021
The university, founded in 1919, has "redrawn and redefined the boundaries of intellectual and creative thought as a preeminent academic center," according to The New School. "Our rigorous, multidimensional approach to education dissolves walls between disciplines and helps nurture progressive minds."
While the school may want to embrace leftist gender ideology, one social media user pointed out that the outward characteristics of Gnarls indicate that the mascot is likely a male.
"Very few female Narwhals have tusks," one user wrote. "Your mascot is more than likely male – I hope this helps them identify themselves."
Several minutes of research confirmed that while females do have tusks, they are often hidden, and generally only male narwhals have visible tusks.
MORE: Cal State Long Beach unveils non-binary shark mascot
IMAGE: The New School
Like The College Fix on Facebook / Follow us on Twitter