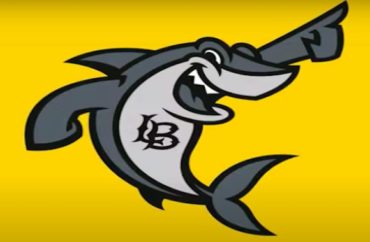 California State University Long Beach has finally unveiled its new mascot: "Elbee" the Shark.
According to the Daily Forty-Niner, the shark's name is a phonetic form of "LB" (for "Long Beach"), and it'll wear the number 49 to maintain a sense of tradition.
The former mascot "Prospector Pete" was ditched by the university two years ago due to negative connotations surrounding the 1849 California Gold Rush. Students voted last year for the shark replacement.
But the DF-N notes the unveiling of Elbee (which may invoke memories of "Jabberjaw" for those old enough to remember) has "caused some uproar." That's because the shark officially identifies as "non-binary" and uses the plural pronouns "they/them/theirs."
Seriously.
Associate Vice President of Strategic Communications Jeff Cook said "there was interest in having Elbee representative of both men's and women's teams […] so Elbee does indeed transcend gender."
Some alumni and current students weren't too keen on the concept.
Former DF-N editor Elliot Teaford wrote on Twitter "Thanks for the chuckle, but I'll be a 49er first, last and always." CSLB student Lioda Aghajani, who identifies as a member of the LGBTQ community, said that while she "appreciate[s] the proper use of pronouns, using it for a shark is a bit excessive."
Recent graduate and former international student who majored in film and electronic arts, May Nyback, took to Instagram to voice her thoughts on the new mascot.

"I think the decision to pronoun the shark as they/them was extremely progressive and promising for our college and community," Nyback said. "It highlights everyone and set forth a world where everyone is accepted for who they are — even sharks." …

The Daily Forty-Niner conducted polls on social media with results showing overwhelming support for the new mascot, averaging more than 70% of the votes.

In a long process of finding an identity for the Beach, several mascot ideas were eventually narrowed down to three semifinalists: a shark, stingray and the option to have no mascot at all.
Like alumnus Teaford indicated he'll do, CSLB curiously said students can continue to refer to themselves as 49ers. Curiously because two years ago, school president Jane Conoley said the 19th century Gold Rush, from which the 49er moniker is derived, "was a time in history when the indigenous peoples of California endured subjugation, violence and threats of genocide."
MORE: Students protest California gold prospector mascot as 'icon of genocide'
IMAGE: CSLB / YouTube screencap
Like The College Fix on Facebook / Follow us on Twitter