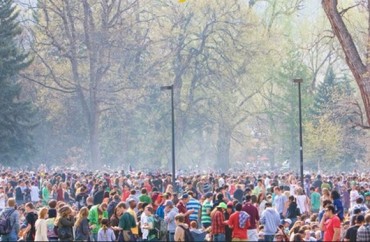 The Princeton Review recently debuted its 2016 "best of" edition, which includes its "Reefer Madness" category – or the best colleges for students who love to smoke pot.
The list was based on how 136,000 students at 380 colleges the Review surveyed answered: "How wide is use of marijuana at your college?" Among colleges that made the Top Ten are the University of Colorado at Boulder and Colorado College, perhaps no surprise in the wake of the state's legalization of the possession, sale and use of recreational marijuana.
Some have argued the legalization of recreational pot endangers the higher education institutions in the state, creating an acceptance of a federally illegal drug as a norm.
But far before the statewide decision, colleges like CU Boulder and Colorado College, both highly revered institutions, played host to student-led acts such as "smoke outs" or protests "to end the prohibition" of pot. Indeed, for the last several years both colleges have been ranked high on the "Reefer Madness" list.
At least five colleges in Colorado contacted by The College Fix stated they maintain strict no-pot campus policies, but as Princeton Review indicates, the success of those regulations are hazy.
Colorado College – No. 9 on the 2016 Refer Madness Lists – states in its policy that: "All marijuana use is prohibited, even if the intended purpose is for medicinal reasons." That's off-campus, too.
"CC is dedicated to providing the finest liberal arts education in the country and we believe that marijuana use conflicts with this mission," a spokesman told The College Fix in an email.
The same defense comes from CU Boulder, ranked No. 7 on Refer Madness. Boulder's policy states medical and recreational weed is strictly prohibited on campus.
But according to a 2014 CU Boulder report that included weed use stats, 32 percent of students reported using marijuana. Additionally, most CU students started using marijuana in the first two years of college.
"The legalization of medical marijuana and marijuana decriminalization in Colorado and Washington have resulted in less stigma for marijuana use, decreased perceptions of danger or risk, and decreased parental disapproval of the substance," the report notes.
Campus leaders try to fight against that as best they can, they say.
"At CU-Boulder, marijuana remains illegal under campus policies. We have spent considerable time educating our students about these policies," Ryan Huff, campus spokesman for CU Boulder, told The College Fix. "We have also eliminated the 4/20 gathering, which caused major disruptions to the academic mission of the university."
But even the nation views Colorado as the place to go to college if you like to get high. In 2014, High Times, a Colorado-based pro-pot publication, made the claim that out-of-state applications for Colorado universities surged due to the legalization of marijuana, a statement that went viral.
After that, several Colorado college officials denied the widely spread claim that the reason college applications in the state were on the rise is because its residents can legally smoke marijuana.
But even many Colorado university officials are sort of giving up to some extent, having sort of educational tsk tsk conversations with students who are caught as opposed to calling the cops, according to a 2014 City Lab report.
What's more, some universities have decided to make lemonade out of lemons.
"After years of trying to stamp out marijuana use on college campuses, Colorado officials are now asking the federal government to allow its state universities to grow their own pot," the Los Angeles Times reported earlier this year. "The reason, they say, is that the legalization of the drug here has raised questions about its health effects, questions that can only be answered by studying large amounts and different strains of marijuana."
Meanwhile, college students nationwide seem to view marijuana with more acceptance today.
A recent study from the University of Michigan found that there has been a dramatic spike in marijuana use on campuses nationwide, and daily marijuana use among U.S. college students is the highest since 1980.
"Daily or near-daily marijuana use was reported by 5.9 percent of college students in 2014—the highest rate since 1980, the first year that complete college data were available in the study," the study states. That means 1 in 17 college students surveyed report daily or near daily pot use.
Meanwhile, some prevention policies have been put in place to stem the tide.
At the University of Colorado-Colorado Springs, police have set up a prevention program called CHOICES, which teaches students how to make their own decisions when it comes to smoking pot.
"Although the possession and use of up to one ounce of marijuana by individuals 21 years of age or older is no longer a crime under Colorado law," says Brian McPike, chief of police for the University of Colorado Colorado Springs, "the possession and use of any amount of marijuana remains illegal under federal law."
Like The College Fix on Facebook / Follow us on Twitter
IMAGE: CU Boulder "Smoke Out" Internet screenshot