Student newspaper took credit for prompting the school
Gonzaga University officials have removed several photos deemed "objectionable content" from a public gallery and they encourage people to continue to submit potentially offensive material.
But the Jesuit Catholic school will not answer questions about all of the photos removed.
"Images were recently found in the Rogues Gallery depicting a man in blackface and inappropriate displays of Native American garb in a musical performance of 'Little Mary Sunshine,'" the Gonzaga Bulletin wrote in early November.
A statement on the library's website encourages people to flag potential content for review.
"Gonzaga University is conducting an audit of its materials to locate these sensitive materials," the statement says. It provides a form on how to alert the university archivists to potentially problematic materials.
The campus paper did not provide or link to any of the photos. The College Fix found the photos for the "Little Mary Sunshine" play (pictured).
The Fix reviewed Gonzaga's archives and could not locate the photo of a man in blackface, though there are over 4,000 photos spanning 114 years in just the Rogues Gallery.
Chief Diversity Officer Robin Kelley's office first refused to give her email address to The College Fix when asked over the phone. Kelley then did not respond to two emails in the past three weeks that asked for copies of the removed photos and the guidelines for removal.
For now, the photos will remain online.
"The image previously mounted here has been removed due to objectionable content." a sign now says. The Gonzaga Bulletin said the photos are "racially insensitive" and credits itself as the cause for their removal. The student paper said the removal came following its "report on racially inappropriate photos."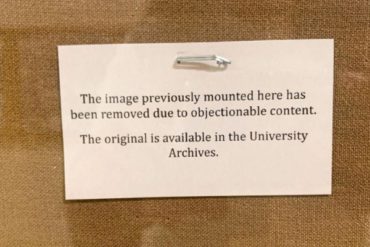 Raymond Reyes, the Catholic university's associate vice president for cultural initiatives, said the university does not want to "rewrite history."
"We are a learning community devoted to the faithful pursuit of justice without engaging in revisionist history," Reyes said in an email to the university community.
The Fix reached out to Reyes through email on November 22 and December 1 to ask how the university balances maintaining historical records and with modern sensitivities. He did not respond to either emailed requests for comment.
These actions follow an initiative to review the university's archive that began in March 2019.
"[A]dministrators announced a review of the university's archives for culturally or racially inappropriate images," the Bulletin reported at the time.
Paul Bracke, dean of Foley Library, said that the process includes "looking through the materials and identifying things that are potentially insensitive," according to his 2019 email.
"We have found a few things that are problematic within – or potentially problematic within – the Rogues Gallery, but that we need to provide more context [to]," Bracke said in November 2021.
Bracke has not responded to several requests for comment via email for more specifics on the Rogues Gallery photo removal.
MORE: Cancel Culture Database entries on movies
IMAGES: Gonzaga University Archives; Gonzaga Bulletin
Like The College Fix on Facebook / Follow us on Twitter