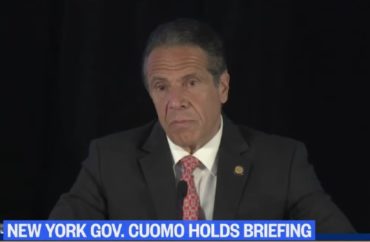 Union happy that other people have to get the vaccine
College students at the State University of New York system and the City University of New York system will be required to receive a COVID vaccine in order to learn on campus, under a new directive from Governor Andrew Cuomo.
However, the Democratic governor did not mandate the vaccine for faculty and staff, even though older people are more likely to die and suffer severe cases of COVID than generally younger college students.
"Cuomo said Monday the vaccine requirement for students will only take effect if the federal government grants full, regular approval to one or more of the Covid shots on the market now," Syracuse.com reported.
The Buffalo News explained that union representation makes it harder for the public universities and the state to mandate the vaccine.
"Extending the mandatory vaccine order for SUNY employees would run into unions," the Buffalo News reported. The university staff and faculty "have something college students don't have: political might."
One union praised the mandate for students, but said the governor would have to negotiate with it if it wants members vaccinated.
Fred Kowal of the United University Professors, which represents SUNY faculty and staff, "absolutely welcomes" the mandate, according to the Buffalo news organization.
"It will be absolutely crucial in getting back to a sense of normalcy in our campus communities," Kowal said.
He said a mandate for his own members "would require negotiations with UUP."
Black liberal student says if she has to get vaccinated, everyone should have to get it
The mandate has faced pushback from students who questioned the uneven application of the requirement.
"It's not fair that they can choose not to get it," Madison Mack, a black student board member of Buffalo State's Public Interest Research Group, told the local news site. PIRG is a left-leaning student advocacy group.
Mack plans to get the shot, but "she understands the historical worries about government-run vaccine programs in minority communities," Buffalo News reported.
"If one has to do it, then we all have to do it," Mack said.
MORE: Experts disagree on legality of COVID vaccine mandates
IMAGE: NBC News/YouTube
Like The College Fix on Facebook / Follow us on Twitter