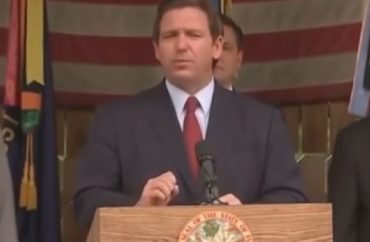 Also helps protect trade secrets
Florida Republican Governor Ron DeSantis recently signed two bills aimed at stopping the influence of the Chinese Communist Party and other foreign adversaries on college campuses. The bills, passed unanimously, also aim to stop foreign espionage against companies.
Surrounded by Asian-American leaders and Florida politicians, DeSantis signed both House Bill 7017 and House Bill 1523 to "protect Florida's higher education institutions and government from foreign influence and combat corporate espionage, keeping Florida's intellectual property safe within the state's boundaries." according to the governor's office.
HB 7017 prohibits seven countries from entering into agreements with Florida's public universities if the "the curriculum or values of a program" are dictated by the country, not the university. Countries on the list include China, Venezuela, Syria, North Korea, Iran, Cuba and Russia.
The law would effectively prohibit Confucius Institutes, which are educational centers on campuses that are controlled by the Chinese Communist Party and try to silence critics. There are currently four such centers in Florida, according to the U.S. headquarters from the Confucius Institutes.
The legislation also requires stricter oversight of agreements with foreign countries to ensure that contracts do not threaten U.S. national security. It also strengthens transparency surrounding gifts from foreign countries to Florida universities.
A related bill, HB 1523, takes aim at the theft of trade secrets. DeSantis mentioned several examples of university researchers using their positions to obtain trade secrets.
A staff analysis of the bill provides an example of the corporate espionage the legislation will combat.
"Amin Yu, a Chinese citizen living in Orlando as a permanent resident smuggled underwater drone parts from U.S. companies to Harbin University, a state-owned university in China conducting military research," the analysis said. "Yu used two companies she started in the U.S. to buy systems
and components for underwater vehicles under the direction of a professor at Harbin University."
The legislation will take effect July 1.
MORE: Confucius Institutes are rapidly dwindling
IMAGE: Forbes/YouTube
Like The College Fix on Facebook / Follow us on Twitter