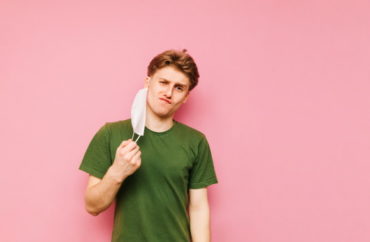 A professor from Michigan's Grand Valley State University recently penned an op-ed which refers to anti-mask Trump supporters as backers of white supremacy, police brutality, and Neo-Nazi militias.
In his China Global Television Network piece, "Integrative Studies" Professor Joel Wendland-Liu chides those who feel restrictive anti-COVID measures are partly based on politics, and accuses the president of "undermin[ing] public health warnings and downplay[ing] the seriousness of the pandemic."
Pro-Trump anti-maskers, the prof says, "openly support white supremacy via xenophobia, […] racist police brutality and right-wing vigilantes, Neo-nazi militias, Neo-Confederates slogans, and 'America first' policies." They're are willing to sacrifice their lives to maintain not only white supremacy, but capitalism — the "American way of life" as they (allegedly) define it.
The president, the GOP and "right-wing media" view the Black Lives Matter movement as a threat to that, Wendland-Liu adds.
Many white people, likely the majority of white voters, will act to reelect the Trump administration on November 3. They will cast a vote for Trump as a signal of their support for the deeply rooted belief in the American equation of patriotism with capitalism and white power.

That many whites have become willing to die to preserve those systems signals that white supremacy and capitalism are at a dangerous crossroads.

White workers enact white supremacy and other racism willingly, consciously, and with full knowledge that their beliefs and actions denigrate other working-class people. It is hard to imagine they do not understand that such views violate democracy, cause deaths, immense pain and sorrow, and aid class exploitation, including of themselves.

African American scholar and activist W.E.B. Du Bois saw this performance of white supremacy as the product of a "psychological wage" of whiteness. Critics of capitalism see it as the result of fractions among workers who derive financial gain, material benefits, and even pleasure from imperialism. They call this class fraction "the aristocracy of labor." Both motivations, in the U.S. setting, operate to promote hostility and denigration of non-white workers.
As noted on his faculty page, Wendland-Liu's first book, "The Collectivity of Life: Spaces of Social Mobility and the Individualism Myth," questions the "dominant myths of meritocratic individualism through an extensive exploration of spatialized identities constructed in the stories people in the late 20th century U.S. told about themselves."
His courses include "Introduction to Intercultural Competence," "Diversity in the U.S." and "The Immigration Experience in the U.S."
The prof's Twitter feed is full of progressive activism, including a call to drop charges against "anti-racist" protesters in Denver, a demand to close all ICE facilities, and an assertion that US Attorney General Bill Barr "echoes Trump's white supremacy" because he compared mask requirements to slavery.
MORE: Profs draft letter demanding networks stop covering Trump COVID-19 briefings
MORE: Prof accuses Trump of 'genocide' against nonwhites in coronavirus response
IMAGE: Bodnar Taras / Shutterstock.com
Like The College Fix on Facebook / Follow us on Twitter