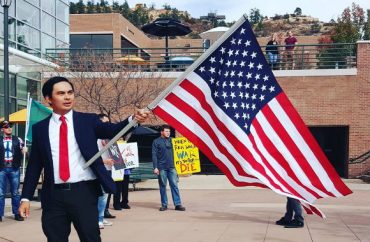 OPINION
COLORADO SPRINGS – When I went to a small campus rally featuring Democratic Colorado Sen. Michael Bennet, who is running for re-election, it wasn't because I'm voting for him.
As vice president of the College Republicans at the University of Colorado-Colorado Springs, I wanted to hear a different perspective. Meeting a senator is also a huge deal, of course.
What I didn't expect was that another candidate would show up and act like so many campus activists, shouting down an invited speaker and turning a blind eye to his backers' harassing behavior toward those who came to see Bennet.
MORE: Anti-Trump protesters join in chants of 'Lock Her Up'
University officials were swift to tell the protesters that as non-students they had to leave the rally and continue their protest in the campus free speech zone.
It was the same thing administrators did a week before – except they told a UCCS student, who is permitted to practice "unscheduled speech" anywhere on campus, to take his campaign activities for Bennet's Republican opponent to the free speech zone.
Heckler's veto
Shortly before the Bennet rally started, I noticed a few individuals in apparel for Green Party presidential nominee Jill Stein. This struck me as odd, because Libertarian nominee Gary Johnson is polling higher.
Bennet spoke about his issues, which are not my own, but I could get behind his message that 50 percent voter turnout among students is unacceptably low.
When a group of people carrying antiwar signs emerged from an academic building, I didn't entertain the thought that they might oppose Bennet. Boy, was I wrong.
They included Colorado Green Party Senate nominee Arn Menconi, and almost immediately they overwhelmed Bennet with chants of "Stop funding the war!" The senator kept his cool and tried not to engage them, but appeared to end his speech early under the barrage of heckling.
Despite the event essentially being over, Menconi and his protesters continued. As they yelled and screamed, an unidentified university official asked the protesters to leave the area. They refused.
I chimed in as well, telling them they weren't allowed to interrupt another group's rally and they should go to the free speech area to protest.
Shutting down someone else's event is not free speech
You might ask: "Isn't that hypocritical? Don't you oppose free speech zones?"
It isn't, and this isn't about preventing students from speaking. The Bennet visit was put on by my friends at the College Democrats. They reserved the outdoor space to get their own message out, not to let hecklers stifle it with a competing message.
MORE: Colorado students take aim at free speech zones
Campus policy clearly delineates how groups like the off-campus Greens can use university grounds, in keeping with the First Amendment. They must have a contract, "with the exception of the University Center Lower Plaza" – the free speech zone, which counts as "unscheduled space."
It's one thing when a UCCS student, who is explicitly allowed to use university facilities without a contract, is asked to take his political speech to the free speech zone.
It's another when a group of non-students, led by the state Green Party nominee, crash an event organized by a student club and deploy the heckler's veto against the authorized speaker.
Go to North Korea, you 'twelve-year-old'
As I told these off-campus protesters to leave the rally, one of them decided to personally insult me.
Later identifying himself as a military veteran on Merconi's Facebook page – which carried a live stream of the heckling – "Sam" laughed at me and asked "Who are you?"
I told him they could protest in the free speech zone, and that I work on campus. "Who are you, you're a nobody!" Sam retorted. "Oh please," he said dismissively when I pointed to campus policy.
MORE: Milo appearance at NYU scrapped due to heckler's veto
At that point, my friend and College Democrats President Mary Clare Rizzardi intervened and removed my from the situation. It was a wise move, but I couldn't let it go.
Knowing how hard it is to put on political events at UCCS, I followed the protesters to the free speech zone so that I could counter-protest them.
I took an American flag to wave and chanted "USA!" and "Trump!" Jacob Foreman, one of the protesters, shouted back: "We're not even voting Trump!"
"No, you're voting for a Harvard medical school graduate who is anti-vaccine!" I replied.
At that point, "Sam" decided to escalate. He said that he wanted to "lay you out," that I should be in North Korea voting for Kim Jong-Un, and called me a "twelve-year-old."
Standing a few feet away was Colorado's Green Party nominee, Menconi, who did nothing to intervene when his backer threatened violence against a student who was peacefully protesting their protest in the only area designated for non-student protests.
Unlike the major-party candidates this election cycle, Menconi could have easily condemned this threat at a small campus rally. It seemed hypocritical to me: You can protest war, but you won't condemn threats by your followers in response to those who express a different opinion.
It's not a good strategy, unless your goal was to permanently lose votes for your party.
In that case, good job, Arn.

MORE: University disinvites Mohammed cartoon editor to save 'academic freedom'
Like The College Fix on Facebook / Follow us on Twitter
IMAGES: Stephen Bates