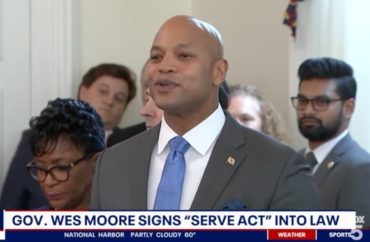 Program provides immediate alternatives to college for recent grads
Maryland Gov. Wes Moore recently signed a new law establishing the country's first post-high school paid "service year" program, in which recent grads can opt for working at a nonprofit, public agency or some other group before they jump headfirst into college.
The new program — billed as the first of its kind in the nation — also promotes volunteerism in the state, according to lawmakers.
The SERVE Act of 2023 creates "a one-of-a-kind service-year option sponsored by state government," a news release from the governor's office states. "It establishes the Department of Service and Civic Innovation, which will promote service and volunteerism in the state."
That department will set up what's called the Young Adult Service Year Option Pathway Fund.
The program will place recent grads in service roles "as an alternative to attending college or starting a career," Capital News Service reported May 8. "Those who participate will not only be paid $15 an hour for their work (with a minimum of 30 hours a week), but will also receive mentorship and job training during their time serving."
Those accepted into the program can serve in areas like education, conservation, literacy or veterans affairs, FOX 5 reported.
"After one year, they'll get $6,000 for college," the news station added. "Graduates can apply up to three years after getting their diploma."
Senate Bill 551, which created the new Department of Service and Civic Innovation, was passed by Maryland state lawmakers in April and signed by the Democratic governor April 24.
"Even before he was elected last year, Gov. Moore said he wanted to be known as the 'service governor,'" FOX 5 reported. "In signing the Serve Act into law, the U.S. Army combat veteran says it will encourage young people in Maryland to care for their community.'"
The College Fix reached out to the governor's office, asking how it will measure the success of the project and how the programs would do more for students than an ordinary job. No response has been received.
The first cohort is expected to be about 250, then grow to 500 students the second year, 1,100 the third year, "and peak in the fourth year at 2,000, which will be the number of students in the program for every year thereafter," according to Capital News Service.
Paul Monteiro, who will lead the new department, told CNS that "you look at high schoolers coming out, about to walk across that stage, but don't yet know what they're going to do with their career, a year of service at a nonprofit, a public agency, or a for-profit would allow them to get soft and hard skills that make them more marketable at the end of their term of service."
Monteiro said he plans to get the new department established and operational by October 2023, and praised its planned speed of development.
"The governor's an ambitious guy, and that's part of the appeal of the job, really," Monteiro told Capital News Service. "You don't often see the government move this fast. This is very much: The need is there, the support is there, and the demand is there, so we just have to quickly put these things together."
Monteiro said the the first steps are to assemble a core team to run the department and get a website up since "everything's new." However, the secretary also revealed several organizations have already reached out with interest in partnering with the program.
"I've already been so pleased with the response to the governor's call," Monteiro said. "A number of nonprofits and businesses and public offices in the state have said they want to be a part of this. They want to be a destination for folks serving in the first cohort."
MORE: Researchers, politicians agree: fewer jobs should require degrees
IMAGE: Fox5 Washington DC/YouTube
Like The College Fix on Facebook / Follow us on Twitter