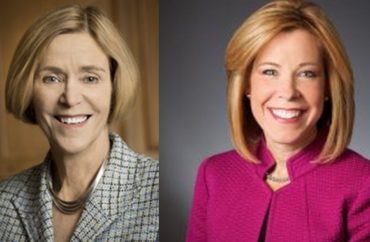 Yale law students protested an accomplished conservative attorney in the name of 'equity and inclusivity'
Yale Law School students were upset that an accomplished conservative attorney with the Alliance Defending Freedom came to campus recently.
But Professor Kate Stith (pictured on left) gave them some advice according to the Yale Daily News: "Grow up."
The March 10 protest, which included walking out of a speech by ADF attorney Kristen Waggoner (pictured on right), also included a question from a student who asked about "the price of a dead trans kid."
Waggoner successfully represented Jack Phillips, a Colorado baker targeted by homosexual activists, in front of the Supreme Court. She is general counsel to ADF, which regularly wins in front of the Supreme Court.
But her mere presence on campus at a Federalist Society event "put YLS' queer student body at risk of harm," according to some students.
The Yale Daily News reported on an open letter that allegedly said that "a large swath" of Yale law students said the event "len[t] legitimacy to this hate group" and "profoundly undermined our community's values of equity and inclusivity."
The campus newspaper did not provide a link to the full letter and The College Fix could not locate it.
The students relied on a report from professional grifting organization Southern Poverty Law Center that called ADF a "hate group" because it supports religious liberty and opposes homosexual activism.
Same students who protested a Cherokee student over a joke?
It's been a tough year for sensitive Yale students.
They had to cope with a part Cherokee student Trent Colbert who used the word "trap house" when describing a joint event between the Federalist Society and the Native American Law Student Association.
The invitation's "association with FedSoc was very triggering for students" an administrator told Colbert during a meeting about the email.
Some students "already feel like FedSoc belongs to political affiliations that are oppressive to certain communities."
Yale Law School has an institutional stance against ADF, too.
Students who want to spend the summer helping draft briefs in support of pro-life legislation or provide counsel to Christian business owners targeted by homosexual activists are going to be disappointed if they hope to get financial support from Yale.
The university decided in 2019 to stop offering stipends if a student works at an organization that discriminates on the basis of "sexual orientation and gender identity and expression." ADF, as a Christian organization, does not allow employees to be in homosexual relationships (or allow heterosexual couples to cohabitate before marriage, presumably).
MORE: Harvard law students ask for right-of-center legal clinics
IMAGES: Yale Law School; Alliance Defending Freedom
Like The College Fix on Facebook / Follow us on Twitter