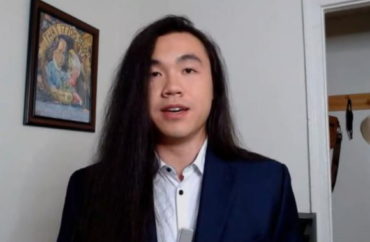 An effort is underway to remove a second-year student at Yale Law School from his position as a student representative after he refused to issue a wholesale apology over "triggering" his peers.
Law student Trent Colbert had upset his peers with a colorfully worded invite he sent to a party co-hosted by the conservative-leaning legal Federalist Society and the Native American Law Students Association.
Administrators used strong-arm tactics to compel Colbert to apologize, according to audio records of the meetings provided to the Washington Free Beacon.
Colbert, for his part, denied any wrongdoing and said he would be happy to speak to any upset students on an individual basis, but did not want to issue a generic, campuswide apology letter.
As a result, the effort seeking to get Colbert removed from his student representative position complains that he has "refused to issue a formal and meaningful apology to our student body for deeply offensive speech that has particularly impacted classmates of color."
Colbert, who is part Cherokee, is also a student of color.
The complaint letter, published by Above The Law founder David Lat, adds that Colbert should be removed because his decision to release the audio recordings and possibly other materials to the media is an ethics violation under the student code of conduct.
1/ THREAD. There is now a push to get Trent Colbert, the Yale Law School student who sent the "trap-house email," removed as a 2L student representative.

Here's the form letter the students who want him removed are circulating for signature. pic.twitter.com/fAcanfDR2J

— David Lat (@DavidLat) October 15, 2021
According to Yale's website, student representatives act as an advocate for students, participate in faculty meetings, appoint students to serve on faculty committees, meet monthly with the dean and similar leadership duties.
Lat, for his part, disagrees with the thrust of the letter to remove Colbert from the position.
"This is a terrible idea. I think it's unfair to Trent Colbert, who I believe is the victim here," Lat said on Twitter. "But even if you disagree, this will just increase the ability of [the Federalist Society] and [the Foundation for Individual Rights in Education] to claim free-speech martyrdom."
The invitation that launched the controversy stated:
"Sup NALSA, hope you are all still feeling social! This Friday at 7:30 we will be christening our very own (soon to be) world-renowned NALSA Trap House … by throwing a Constitution Day Bash in collaboration with FedSec."

"Planned attractions include Popeye's chicken, basic-bitch-American-themed snacks (like apple pie, etc.) a cocktail station, assorted hard and soft beverages, and (most importantly) the opportunity to attend the NALSA Trap House's inaugural mixer! Hope to see you all there!"
"The email's association with FedSoc was very triggering for students who already feel like FedSoc belongs to political affiliations that are oppressive to certain communities," a Yale administrator had chided Colbert, according to the audio recordings.
Colbert was also accused of hosting a party that mocked and discriminated against black people, reportedly over the trap house and chicken references.
But in an interview with CNN, Colbert explained that a "trap house" is basically just a party house and that he chose Popeye's chicken because the eatery is right around the corner from his house.
ALERT: Check out our new Campus Cancel Culture Database!
IMAGE: CNN screenshot
Like The College Fix on Facebook / Follow us on Twitter