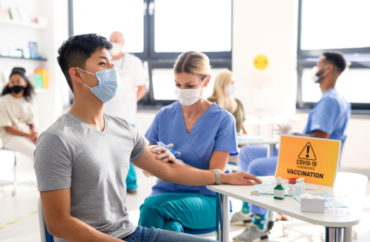 A growing number of colleges and universities are requiring their fully vaccinated students to receive a COVID booster shot.
Leaders at campuses such as Northeastern, George Washington, Notre Dame, Syracuse, Smith, Wake Forest and UMass Amherst all recently announced that their students will be required to receive a booster shot to maintain their fully vaccinated status.
"Because public health experts have indicated that booster shots are critical to mitigating the on-going risk of contracting and transmitting COVID-19, Wake Forest faculty, staff and students will be required to provide proof of a COVID-19 vaccine booster dose or receive an approved exemption," Wake Forest announced in a Dec. 10 email.
A notice to GWU students reads: "If you do not submit documentation of a booster dose by February 1, 2022, you will be required to be tested for COVID-19 weekly and complete the daily symptom monitoring questionnaire until you are in compliance with this mandate."
"Returning students who do not show evidence of a booster by March 15, 2022, will not be eligible to register for summer or fall classes."
The deadlines to receive the boosters at individual campuses vary, but essentially range from late January through March.
"People who received Pfizer-BioNTech or Moderna are eligible for a booster six months after their second shot. People who received Johnson & Johnson are eligible two months after their single-shot vaccine," Northeastern University reports.
The CDC currently recommends that all adults 18 and over receive a booster vaccination due to the recent emergence of the Omicron variant, a new mutation of the coronavirus which is thought to be more transmissible than previous iterations of the virus.
It was initially doubtful whether colleges would require booster shots, according to a survey from American College Health Association's Covid-19 Task Force, which found that state laws may interfere with schools looking to implement such a mandate.
A spokesperson for the association, Rachel Mack, told The College Fix on Monday that its survey findings did not originally take into account that another strain of COVID would emerge.
"The survey results indicated that very few campuses plan to require boosters. However, the survey was conducted November 11-22, and shortly after it closed, the Omicron variant was identified as a variant of concern," Mack said.
"CDC then updated its booster guidance to state that individuals 18 and older should receive a COVID-19 booster. These factors mean that we may see more campuses requiring boosters," Mack wrote via email.
Mack also explained that forthcoming CDC guidance on the variant may prompt other institutions to take similar protective measures.
"The rise of breakthrough cases caused by waning immunity, the emergence of Omicron which at this point appears to be more contagious, and CDC's November 29 update to its booster guidance which now states that individuals 18 and older should receive a COVID-19 booster, may affect campus booster policies," she said. "Additionally, if CDC changes the definition of 'fully vaccinated' to include boosters, campuses may require boosters."
In a response to inquiries from The College Fix, Smith College's spokesperson Stacey Schmeidel replied with a campuswide mailing citing CDC guidance as a main factor behind their institution's decision to require the booster.
Included was a link to a campus dashboard which showed that Smith College's positivity rate presently sits at 0.15 percent, a number which has not exceeded 1 percent since before September 2020. The dashboard also shows that both students and staff at Smith have 99 percent vaccination rates.
Representatives from Notre Dame, UMass and Syracuse did not respond to The College Fix's requests for comment.
Young Americans for Liberty's National Director of Free Speech JP Kirby told The College Fix via phone Tuesday that the ability for universities to create vaccine requirements is a flaw allowed by unchecked state governments that issued emergency declarations during the early days of the pandemic.
"I think that when the COVID restrictions started rolling out, the state legislatures passed the buck up to the governors, who instituted states of emergency. We had a lot of legislators who did not step up and challenge the authority of these governors for whatever reason," he said.
"Higher education, they've already got ties to federal grants from research, they're bound by these different bureaucrats with money for their research purposes and stuff, who are saying 'If you don't institute these vaccine mandates, you're not going to get these grants,' and they're just allowed to do it because there's not much pushback," Kirby said.
"Higher education is messed up, yes, but it's also a failing on all of us. Americans [need] to get up and make some moves," he added.
Currently an estimated 1,000 schools require students to receive a COVID vaccine, according to Best Colleges.
MORE: University COVID policies exacerbate college students' mental health struggles
IMAGE: Halfpoint / Shutterstock
Like The College Fix on Facebook / Follow us on Twitter