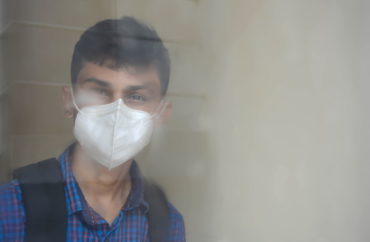 ANALYSIS: Given what we know about the effects of social isolation and chronic and unpredictable stress, the fact that college students are struggling with mental health right now should not be surprising
Mental health has suffered considerably since the start of the COVID pandemic, especially among college students.
According to one JAMA report, data from as early as April 2020 indicated that mental health had declined considerably since 2018 and that young people between the ages 18 to 29 were experiencing symptoms of psychological distress at greater rates than any other demographic.
By June of 2020, following what for many was a three month period of lockdown, 18- to 24-year-olds were reporting anxiety, depression, new or increased substance use, and suicidal ideation at rates higher than any other age group, the CDC reported.
Later surveys by TimelyMD and Active Minds continued to document such findings, with high rates of anxiety, depression and stress among that age group as the pandemic wore on.
Psychologist Barry Schreier, director of university counseling services at the University of Iowa and communications chair for the Association of University and College Counseling Center Directors, described the pandemic as something of a natural disaster, but of an unprecedented sort.
"The pandemic's interesting," he told The College Fix in a telephone interview. "Unlike a hurricane that would sort of go in and devastate a community … we know it's coming. It does its thing and it's over … The pandemic's nothing like that."
"It sort of showed up suddenly …" Schreier said, "[and] it's gone on and on and on. And when will it end? It's not clear. And is it going to get better? We're not sure."
For many students, the constant evolving nature over the last nearly two years has been difficult to navigate, he added.
Whether it is time for universities to reconsider policies that have taken a toll on students in order to protect them from what for most of them is a non-threat, Schreier declined to comment, stating matters of epidemiology and public health are outside his area of expertise.
Universities, however, were among the first major institutions in the United States to shut down in March and April of 2020, effectively helping to pave the way for the current mental health crisis.
When told to come back, despite the low risk COVID poses to most college students, return was often preconditioned on compliance with vaccine mandates, social distancing, mask wearing, COVID testing and similar restrictions.
At several universities, students have been told to not host parties or gather in dorms. They're told to wear masks while eating or drinking, only permitted to take them down for brief sips or bites. Students shipped off to quarantine after testing positive for COVID likened the experience to solitary confinement.
Today, despite the development and wide-availability of several COVID vaccines, which many universities have made compulsory, students still regularly experience sudden COVID-related disruptions to daily life, often announced through excoriating emails delivered with the tone of frustrated schoolmarms.
Temporary shifts to online instruction, canceled and rescheduled athletic events, onerous and confusing testing regimens — even for the vaccinated — the suspension of in-person gatherings, and forced quarantine in prison-like conditions have all become part of the new normal.
Suicide has long been cited as one of the leading causes of death among college students. Given what we know about the effects of social isolation and chronic and unpredictable stress, the fact that college students are struggling with mental health right now under such circumstances should not be surprising.
Social isolation is not good for social animals. In rodent models it disrupts normal cardiovascular and immune system functioning. It also leads to increases in behaviors associated with anxiety and depression.
In humans, it is associated with increased mortality. In college students, the mere suggestion of a future alone can lead to reductions in analytical reasoning and thought that one group of prominent psychologists described as "reminiscent of serious, wide-ranging cognitive impairments (e.g. from head injuries)."
Likewise, chronic or unpredictable stress has been linked to wide-ranging health problems, both physiological and psychological.
A virtual event set for Dec. 8 and hosted by the Chronicle for Higher Education titled the "Mental-Health Crisis on Campus" notes in its description plans to tackle questions such as "how has the pandemic exacerbated college students' already-growing struggles with mental health?"
Yet absent from most conversations about and responses to the mental health crisis on college campuses is any serious discussion of reevaluating the kinds of policies that likely exacerbated it.
Most analyses of the mental health crisis read almost like PR guides for college administrators, presenting them with a catalog of strategies from which they can select as a means to signal they take the problem seriously.
The RAND Blog recommended increasing telehealth services, reducing stigma, promoting peer groups, and partnering with crisis centers.
A document from the Boston University School of Public Health encouraged mandating faculty complete a brief, online training session on how to recognize and respond to student mental health problems.
An article from Inside Higher Ed gave a litany of recommendations that included making students more aware of university mental health services, offering more clinic hours, utilizing screening apps, and diversifying counseling center staff.
Schreier, when discussing the response of academic institutions over the past 20-plus months, offered something of a more human touch.
"A lot of campuses are doing postvention things, which is they are creating a lot of resources online to sort of help students manage anxiety, stress, depressed mood…[and] to help students to see that it's not necessarily they're fault they're not doing well," he said.
As for how well these postvention things are working, Schreier said, "It's kind of too early to tell. We're all sort of halfway through our first semester that most campuses came back in-person. So it's still a little early to tell."
However, he did add that, "[Although] students are struggling with a lot of things…they are still doing well. You can be struggling and still doing well. For every student that's depressed and anxious, they are still going to class. They are still completing assignments. And they are still sitting in seats in classrooms and making this work."
Yet, even if struggling students are managing to make their current pandemic purgatory work, it would seem like it is time for universities to seriously evaluate whether the treatment prescribed in this situation is doing more harm than the disease.
MORE: Universities continue to put students in prison-like conditions over fear of COVID
IMAGE: Mad Dog / Shutterstock
Like The College Fix on Facebook / Follow us on Twitter