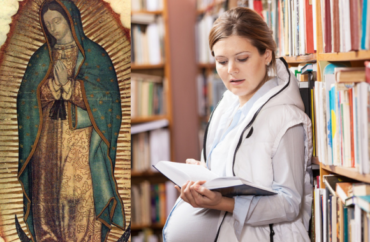 'Students and staff alike feel that the University wants them to succeed,' pro-life student leader says
Pregnant students at the Catholic University of America have support to help them choose life and continue their education, according to several individuals associated with pro-life efforts on campus.
Founded in the fall of 2022, the Guadalupe Project aids pregnant students and student mothers by giving them vital resources such as diapers, child care, maternity and baby clothes and other support. It is named for Our Lady of Guadalupe (pictured), a Marian apparition in Mexico and the patron saint unborn babies in the Catholic Church.
The initiative came from a committee in 2022 led by CUA Deputy Counsel Jennie Lichter, a former attorney in President Donald Trump's administration.
"An expectant mother would be welcome and supported to continue to live in her dorm room and participate fully in the life of the university," Lichter told The College Fix via email. "She would not be asked to move off-campus or into separate housing."
She would also be given access to the "Cardinal Cupboard, the University's on-campus food pantry, [which] includes diapers in a variety of sizes, wipes, baby care items such as soap, shampoo, baby powder, and diaper cream, and other necessities," Lichter said.
"These items are available free of charge and with no questions asked to any member of the University community," she said.
Instead of pressuring a pregnant mother to have an abortion, the university celebrates the pregnancy with a baby shower, Litcher told The Fix via email.
"Cardinals for Life, the student pro-life group, has pledged to host a baby shower for any undergraduate student who is preparing to welcome a baby," she said.
The club stayed true to its word and threw the first baby shower this past spring. Lichter commented on the event saying it "was a wonderful, joyful occasion that helped to meet the student mom's material needs as she prepared for her baby's arrival."
MORE: Med professor fined over abortion of 10-year-old's baby
A pro-life student leader on campus said he hopes all pregnancies are welcomed with joy on campus.
Noah Slayter, a pro-life activist and student at CUA, told The Fix that when students become pregnant, "[s]tudents and staff alike feel that the University wants them to succeed." Slayter helped work with the student government to advocate for support for pregnant and parenting mothers, such as the installation of diaper changing tables.
Unfortunately, other universities adopt "an abortion-first mindset [and] tell their students and staff that there will be no help from their school should they become pregnant," Slayter said.
"The abortion-first mindset tells students they cannot succeed in school and raise a child at the same time," the pro-life student leader said. "This mindset tells women that in order to succeed against their male counterparts, they need a surgical procedure that kills their preborn child, this is the height of misogyny."
Lichter, the deputy counsel, said even simple gestures can show women they are supported.
She told The Fix:
There are so many different possible ways to support student mothers, and it's important to remember that some of the most meaningful supports are seemingly the smallest. For example, one of the most popular changes we made through the Guadalupe Project is the introduction of our maternity parking program. In just a few months, several expectant mothers have expressed their gratitude for the opportunity to access a parking space near their building. That sort of seemingly minor, but concrete and practical, change can go a long way to improve the quality of life for mothers in the campus community.
Lichter said a good place for universities to start is by taking account of the resources currently available and any holes in their services.
Universities do not have to do it alone, Lichter said. "Catholic University would be happy to talk with any institution that would like to launch a program, like the Guadalupe Project, to support pregnant and parenting students, staff, and faculty."
MORE: FBI seeks info on pro-abortion threat against campus Catholics
IMAGE: Public domain; Photobac/Shutterstock
Like The College Fix on Facebook / Follow us on Twitter