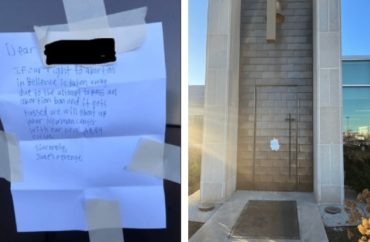 An abortion supporter allegedly left a threatening note at a Catholic center
The Federal Bureau of Investigation's Omaha office has offered a monetary reward for information on threats of violence leveled against the University of Nebraska-Omaha's Catholic campus center.
"A reward of up to $15,000 is offered by the FBI for information leading to the identification, arrest and conviction of a suspect or suspects responsible," for the threatening notes left at UNO's St. John Paul II Newman Center, WOWT.com reported.
"Investigators identified a vehicle of interest, believed to be a 1998-2004 tan/silver Chevrolet S-10 pickup truck," the news outlet reported.
The threats were left on Dec. 3, but the FBI just announced the reward at the end of May.
A similar note, threatening violence if Nebraska passed a pro-life law to restrict abortion at 12 weeks, was left at a nearby church.
The notes were left the same day Students for Life of America had a training session scheduled at the Newman Center.
"Dear [name removed], If our rights to abortion in Bellevue is taken away due to the attempts to pass an abortion ban and it gets passed, we will shoot up your Newman Center with our new AR-14 rifles. Sincerely, Jane's Revenge," the note stated, according to Students for Life Action, the advocacy arm of the national pro-life student group.
The pro-abortion group Jane's Revenge has "claimed responsibility for acts of vandalism and fire bombings of anti-abortion offices and clinic," according to the Counter Extremism Project.
"On May 8, [2022], the Madison, Wisconsin, office of the anti-abortion Wisconsin Family Action was set on fire after a Molotov cocktail thrown through a window failed to ignite," Counter Extremism wrote. "Police also found graffiti that read, "If abortions aren't safe then you aren't either."
It provided other examples of attacks on pro-life groups across the country.
Supporters of abortion have continued to resort to violence and harassment to make their point, including a Hunter College adjunct who first screamed at a pro-life display on campus and then threatened a New York Post reporter with a machete for showing up at her apartment to ask questions.
A pro-abortion grad student allegedly attacked a cop at the University of Florida after he tried to arrest her for stealing a pro-life group's display.
MORE: Middlebury College sets up 'feminist' mini-golf course
IMAGES: Students for Life Action
Like The College Fix on Facebook / Follow us on Twitter