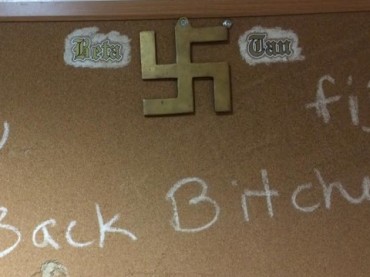 A Jewish student who was punished for posting an Indian symbol resembling a Nazi swastika on his frat's bulletin board is getting high-profile help from the Foundation for Individual Rights in Education.
The civil liberties group, along with the Hindu American Foundation and the student's lawyers, is demanding George Washington University revoke his suspension.
Zeta Beta Tau's International House had recently been vandalized with swastikas, leading the student – who had just returned from India – to post the symbol and explain its "ancient roots" across cultures that long preceded Nazi Germany:
On March 18, two days after the incident, GWU notified the student that he was facing five disciplinary charges and that he was suspended pending their adjudication. The terms of the interim suspension included temporary eviction from university housing, suspension from class and university activities, and a prohibition from stepping foot on campus property.

FIRE wrote to GWU President Steven Knapp on March 27, calling on the university to immediately drop the charges against the student. FIRE reminded GWU that not only was the swastika in question indisputably not a Nazi swastika, but even Nazi swastikas receive First Amendment protection.
GWU law professor John Banzhaf, who runs his own email list for legal news, has been publicizing the student's plight for the past few weeks, severely criticizing the school for its action, even as the incident failed to draw much attention at GWU itself.
The school refused to tell FIRE about the specifics of the case, citing the student's privacy. The results of the April 20 disciplinary hearing haven't been released.
Like The College Fix on Facebook / Follow us on Twitter
IMAGE: Foundation for Individual Rights in Education