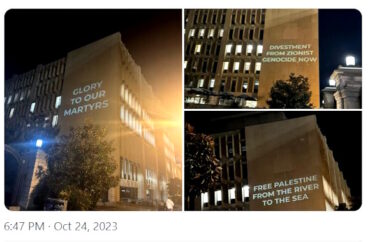 Pro-Palestinian students: Resist 'by any means necessary'
George Washington University postponed its annual Diversity Summit this week after a pro-Palestine student group projected antisemitic messages on the campus library, prompting national outrage.
The messages included "Glory to our martyrs," "Free Palestine from the river to the sea," and "Divestment from Zionist genocide now," photos by the group Stop Antisemitism show.
Originally scheduled for Wednesday through Friday at the private, Washington, D.C.-based institution, the ninth annual DEI event will be held in February instead due to the "current climate at GW, nationally, and globally," the university Office of Diversity, Equity and Community Engagement said Wednesday in a statement.
"Our community is particularly impacted by the war in the Middle East. Prioritizing campus safety and support is critical," the office said.
The antisemitic messages were traced back to a protest by Students for Justice in Palestine on Tuesday night that resulted in widespread condemnation and a call from a U.S. Congress member for disciplinary action.
The students' messages, projected in lights on the wall of Gelman Library, seemingly praised Hamas terrorists who murdered more than 1,200 Israeli civilians earlier this month, according to The GW Hatchet, the student newspaper.
George Washington University – students are projecting horrifying messages onto a school library building glorifying Hamas terrorists that beheaded babies, raped teenage girls, and murdered 1400+ people.

We call on President @PresidentofGW to immediately expel those involved.… pic.twitter.com/tecz0R7zF2

— StopAntisemitism (@StopAntisemites) October 25, 2023
In its statement Wednesday, administrators said they stopped the "unauthorized" display after they became aware of it.
"The statements made by these individuals in no way reflect the views of the university. We are reviewing this incident and will take any appropriate steps with respect to the individuals involved in accordance with university policies," the university said.
Administrators canceled the DEI summit shortly after issuing the statement, the student newspaper reported.
"Proceeding with the schedule would be dismissive to the pain, loss of life, and impact that many members of our community are experiencing," the Office of Diversity, Equity and Community Engagement said.
Adena Kirstein, director of the Jewish campus group Hillel at George Washington University, told the Jewish Telegraphic Agency the display was "absolutely" antisemitic, and Jewish students feel "isolated and alone."
"'From the river to the sea,' when you call for the erasure of the Jewish space, yes," Kirstein said.
After the Hamas attack Oct. 7 on Israel, the GWU chapter of Students for Justice in Palestine issued a statement supporting "the liberation of our homeland and our people's right to resist the violent 75-year-long colonization of our homeland by any means necessary."
The statement also described every Israeli as "an aggressor, a soldier, and an occupier even if they are lounging on our occupied beaches."
Hamas fighters killed more than 1,200 civilians in Israel in the Oct. 7 attack, including women, children and the elderly.
Responding to the group's Tuesday protest, U.S. Sen. Mike Lee, a Utah Republican, said the university must take action against the students' support for "genocide."
"These are genocidal messages displayed on a building at George Washington University," Lee wrote on X. "Genocide isn't hip, cute, or in any way acceptable. GWU—do the right thing NOW!"
A recent Harvard poll found a small but significant number of young adults believe "genocide" against Jews is "justified."
MORE: GWU professor faces investigation, federal complaint for antisemitism
IMAGE: X screenshot / Stop Antisemitism
Like The College Fix on Facebook / Follow us on Twitter