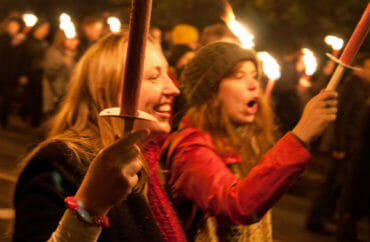 New thoughtcrime team to target 'unwelcome' speech
The mob has won.
Less than a week after a misleading Snapchat photo led to a witch hunt against Greek life and threatening demands for re-education camps, George Washington University has pledged to enforce institutional illiberalism.
President Thomas LeBlanc, whose welcome ceremonies last fall cost $500,000, told the community Wednesday that GWU would force incoming students to take a diversity course starting this fall.
That's the same course of action announced by nearby American University last month, except the latter took years to plan a broader diversity initiative.
In keeping with the demands of charismatic pitchfork leader Imani Ross, a student senator, LeBlanc is imposing penalties for thoughtcrime in the Student Code of Conduct and promising to police students' speech.
MORE: Imani Ross threatens to rain down wrath on GWU
GW President Thomas LeBlanc spoke about the importance of preserving free speech on campus during a conversation with SMPA Director @franksesno. https://t.co/YWP3AiAGRI pic.twitter.com/oxB55oTk3o

— SMPA at GW (@SMPAGWU) November 20, 2017
Changes based on misinformation and speculation
GWU will add unspecified "non-sex based harassment and discrimination" to the code and address unspecified "forms of harassment beyond sexual harassment" in the equal opportunity policy.
A new "bias incident reporting system" will encourage students to anonymously report each other for every perceived slight. Not just "verbal harassment," but also unspecified "forms of unwelcome conduct motivated by hatred based on race, color, religion, gender, national origin, etc." (Expect this to be used against both pro-Jewish and pro-Palestinian campus groups.)
Such systems often devolve into farces: complaints against the campus newspaper for not doing enough transgender stories, students for hogging gym equipment, and anyone who posts a sign "color-coded pink for girls and blue for boys."
LeBlanc's statement suggests that bias response officers will attempt to educate if not punish the targets of complaints ("track and address"), a prima facie example of chilled speech.
MORE: GWU might punish Alpha Phi for a banana peel
#GWU to mandate diversity training for incoming students and other university members amid racist incident #BREAKING pic.twitter.com/Ou2ymnjNNh

— The National Discourse (@NatlDiscourse) February 7, 2018
Applicants for the "dean of the student experience" position will be limited to those whose "core competency" is diversity, equity and inclusion. That sounds like code for "no whites allowed," and it responds directly to the Student Association Senate's resolution demanding nonwhites be given dean-level roles.
Diversity training will now be mandatory for "residential life staff, RAs, Colonial Inauguration [undergraduate orientation] leaders, admissions staff, tour guides, and other staff members who work closely with students."
In spite of the fact that LeBlanc said the Alpha Phi incident had been severely misrepresented, some of the punishments will fall on the entire Greek community: All recruitment chairs and new member educators will be forced to take diversity training.
A funny thing happened on the way to Salem, according to LeBlanc: The school's investigation of the banana-peel photo revealed that the two pictured sorority members didn't say anything racist or even know the photo had been shared.
The person who wrote the confusing caption – "Izzy: 'I'm 1/16 black" – told the university "they did not intend to offend others" and the pictured women didn't know about the caption.
MORE: Bias report targets weight-hogging at the gym
This single example of poor judgment by one student – sent specifically to a small closed group and intended to disappear quickly – has caused "great harm to our community," according to LeBlanc, necessitating a broad and illiberal response.
Despite this apparent exoneration of the Alpha Phi chapter, the university still won't pledge to take punishment off the table: "University staff are communicating with the national headquarters and considering appropriate actions."
Traditional Greeks will lose freedom of association
LeBlanc claims he doesn't want the university's response to "focus on hostility toward individuals or groups," but the university's response can't help but direct institutional hostility toward those who run afoul of the shrieking intersectional social-justice lobby at GWU.
His Wednesday statement is vague on how the administration might intrude into Greek life. But LeBlanc's interview with The GW Hatchet posted late Tuesday suggests the university will impose racial quotas on recruitment and micromanage house life:
"Is too much of the social life of GW wrapped around the Greek experience and if the Greek experience excludes certain students, are we excluding them from the undergraduate student experience?" he said. "The very definition of fraternity and sorority is to pick a group of students and not pick another group of students, that's the essence of what it is."

MORE: Report pink-for-girl signs to administration as bias

LeBlanc said he couldn't speak specifically to GW's Greek life culture because he hadn't yet studied it. But he said officials would need to examine the "values" that determine which students get bids for Greek chapters.

"I would be especially concerned if we're not treating the minority fraternities and sororities equally with the white student fraternities and sororities," he said. "I would be especially concerned if there's any evidence that the fraternities and sororities are not choosing from a diverse student body for their membership."
We know what his means: multicultural Greek organizations will get carte blanche to choose their membership and traditional Greeks will functionally lose their freedom of association.
It's what Harvard did when it forced male-only organizations to immediately become coed while giving female-only organizations five years to transition while letting them continue their "gender-focused" missions.
Good to know that GWU is still so insecure that it can't come up with illiberal ideas on its own.
George Washington University Student Association Senate resolution: "Alpha Phi Bigotry Act" by The College Fix on Scribd
Read LeBlanc's statement and Hatchet interview.
MORE: Harvard women get five years to go coed, men don't
IMAGE: aglet/Flickr
Like The College Fix on Facebook / Follow us on Twitter