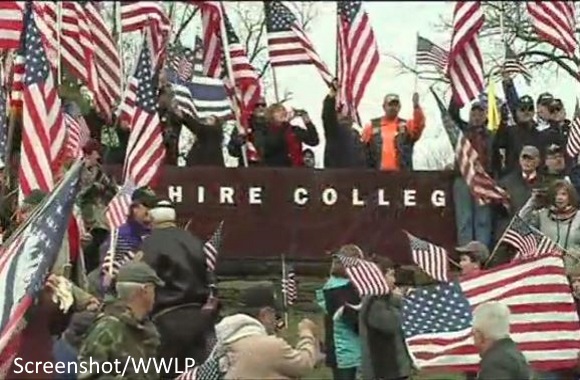 Contradicts himself
Hampshire College President Jonathan Lash can't stop digging himself into a hole.
Two weeks ago the school took down its American flag so it could "instead focus our efforts on addressing racist, misogynistic, Islamophobic, anti-immigrant, anti-Semitic, and anti-LGBTQ rhetoric and behaviors," Lash said then.
Veterans protested and the school threatened to call the cops on them if they came back.
Now the flag has gone back up, but Lash has apparently learned little.
MORE: University bans American flag to combat 'hate-based violence'
He told the community in a message today that its "two-week discussion period about what the flag means to members of the Hampshire community" has concluded, so the flag went back up.
If the flag had stayed up last month, "uninhibited expression of deeply held viewpoints" would have been difficult, he claimed.
#BREAKING The flag at Hampshire college in Northampton will go back up this morning. Statement from President Jonathan Lash: (1/2) pic.twitter.com/vKcBdRGaBA

— Lindsay Iadeluca (@LindsayWMN) December 2, 2016
Lash claimed that Hampshire wasn't making a "political statement" – though its flag removal followed the anonymous burning of an earlier flag that was flown at half-staff because of Donald Trump's election.
He said it wasn't trying to offend veterans and those "for whom the flag represents service and sacrifice":
We are alarmed by the overt hate and threats, especially toward people in marginalized communities, which have escalated in recent weeks. … We acted solely to facilitate much-needed dialogue on our campus about how to dismantle the bigotry that is prevalent in our society. We understand that many who hold the flag as a powerful symbol of national ideals and their highest aspirations for the country—including members of our own community—felt hurt by our decisions, and that we deeply regret.
MORE: Hundreds of vets protest college that removed flag
He describes this period of no-flag-on-campus as "the first step of a process":
Hampshire staff and faculty have led facilitated discussions, I have held multiple focus group sessions, and all of our students, faculty, and staff have been invited to contribute their opinions, questions, and perspectives about the U.S. flag. This is what free speech looks like.
Lash is plainly contradictory by previously claiming that the college community couldn't have an "uninhibited expression of deeply held viewpoints" with the flag remaining, and yet today: "We raise the flag now as a symbol of that freedom, and in hopes for justice and fairness for all."
As former TV host Mike Rowe noted, Lash could have helped his students get over their irrational fear of America by "simply educating them about the undeniable fact that no country on the planet affords its citizens more liberty than this one."
Can someone explain to me how lowering the American flag "facilitate[s] much-needed dialogue"?https://t.co/Y5vTgofp2D

— Blake Seitz (@BlakeSeitz) December 2, 2016
MORE: College will call the cops on veterans who protest flag removal
MORE: 'To my knowledge, no one has ever burned a flag at a trade school'
Like The College Fix on Facebook / Follow us on Twitter