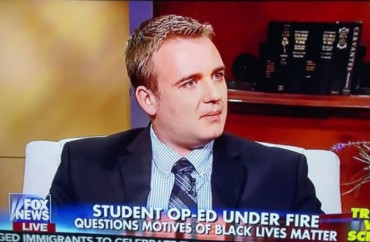 OPINION
Student activists tried to get the Wesleyan Argus defunded because they hated my column about the Black Lives Matter movement.
They ended up waking a powerful constituency – people who think the free exchange of ideas is more important than harassment and threats against unpopular opinions.
The crush of media attention and outrage from all corners of the ideological spectrum saved the Argus from a debilitating funding cut at Wesleyan University's student government meeting Sunday night, the third straight to deal with the fallout from my column.
RELATED: White student columnist tormented by Black Lives Matter activists for op-ed critical of movement
Senators at the lightly attended meeting didn't even vote on a resolution that would have taken more than half the paper's print budget and handed it out to other student publications.
In fact, an initial draft of the next meeting agenda does not mention the Argus at all, and it now looks like the funding question will be shelved until next year.
To realize what's going on, you need to know how this looks inside the Wesleyan bubble.
A national embarrassment, again
When my public shaming by Wesleyan activists and their partial destruction of the Argus print run went public, passing from the goofy Gawker to The Washington Post, the interview requests poured in.   
I did a short segment on Fox News, and longer one with a conservative Connecticut radio host on WATR. Much to my surprise, publications that I thought would try to twist my words actually had a very balanced view of the situation.
For most students on campus, their attention to the fallout from my column lasted for only a few days, and it largely consisted of forehead-slapping and grimacing.
Posters on the anonymous social-messaging app Yik Yak said they were annoyed that Wesleyan was once again an embarrassment in the national news, then fell silent. Others were more humorous.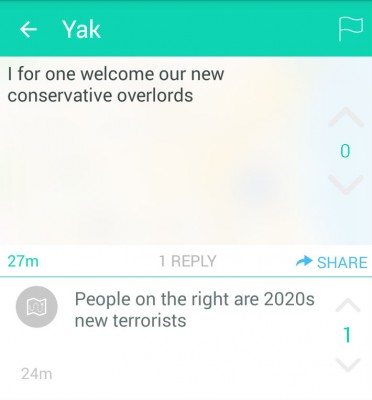 Many alumni and students wrote letters to the Argus expressing their dismay with the small section of campus that was trying to defund the paper and silence dissenting views.
Even as supporters of the defunding petition argued that vandalism and threats against the Argus weren't an attack on free speech, or just called me a racist, the momentum on campus had clearly shifted.
I was receiving hundreds of messages of support for every piece of hate mail, and witnessing the power of positive media attention.
RELATED: In retaliation for op-ed critical of Black Lives Matter, student newspaper could be financially crippled
Authors more liberal than Bernie Sanders and more conservative than Ted Cruz had the same message: this censorship is stupid, stop coddling college students, and throw "safe spaces" and "free speech zones" on campus into the trash. I was in awe that Daily Kos and National Review writers could have the same stance on an issue, even if they disagreed on the particulars.
At the same time, a couple journalists told me that supporters of defunding, for all their whining about not having a voice in the media, were evading their interview requests.
Why do we print newspapers at all in the 21st century?
Even the student government's response to the hubbub was more bark than bite.
Its first weekly meeting after my column blew up was devoted to creating a safe space for Wesleyan students to talk about the article and the Argus. Nothing came out of it – a typical response for any government.
When the resolution to cut the Argus print budget was introduced the following week, it was explained in terms of environmental sustainability, equity and inclusion, though many were skeptical of its true intentions or how it would be perceived.
RELATED: Black Lives Matter activists will keep stealing newspapers until they get their way at Wesleyan
One senator cut through the BS. "If we mess with the Argus budget now it is going to be seen in an entirely different light," he said. "We should tackle this next year, when we will be able to focus on the very blatant problem of cutting down trees for a college paper."
That's exactly what Wesleyan and the Argus need – several months in which to cool down and re-evaluate how a campus newspaper should fulfill its role on an increasingly diverse campus, in an era when dead-tree journalism is fading, without the intense media spotlight.
Next topics: Gun control and mental health
I'm glad this chapter of my life appears to be coming to an end. The Argus has prevailed, mostly, without being forced to censor the views of its political minorities.
Even with the defunding resolution in its back pocket, the student government has been chastened by the reaction of the media, students, administration and alumni.
The line has been set – the Argus will field criticisms and deal with them, without outside interference. As Executive Editor Gabe Rosenberg told Mic, "we don't particularly trust the student government to stay consistent" in its view of the paper, but he supports efforts to increase racial diversity on staff.
I don't know what the future holds beyond my columns that are set to run in the Argus in the next few weeks, on gun control and mental health. (Another 15-minute public berating?)
Whatever happens, I'll continue to write. When I joined The College Fix, it was just a continuation of my hobby – sharing my views and learning from the responses. The past month has pushed me in the direction of journalism and politics as a career, and I'm excited to see what is next.
IMAGE: Fox News screenshot
Like The College Fix on Facebook / Follow us on Twitter