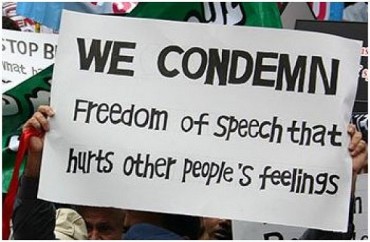 UPDATED
The Harvard group "Reclaim Harvard Law," which has been occupying the Law School's Caspersen Student Center for over a month, claims it has jurisdiction over the building which they have renamed "Belinda Hall."
After student Bill Barlow had put up flyers at Caspersen/Belinda which denounced Reclaim as anti-free speech, group members promptly took them down.
Reclaim leader AJ Clayborne, who personally had removed some of Barlow's flyers, said that anything that goes up in Belinda Hall "must be approved by Reclaim first":
"Belinda Hall has been reclaimed by Reclaim HLS for the purpose of creating an anti-racist environment for all and, accordingly, has a new governing body to protect that cause in a way that the institution's existing structure, including DOS, has not. Anything that violates anti-racist values has no place in Belinda Hall."
Barlow's first set of signs compared the (anti-free speech) policies of Donald Trump to those of Reclaim. But "[a]fter learning about Harvard's 501(c)(3) obligations, which could bar signs referencing Trump, [he] created new signs void of political content."
Clayborne and Reclaim removed those signs, too.
The Harvard Law Record reports:
[Reclaim Harvard Law] held a vote with its "plenary committee," described above by Clayborne, to decide that only approved signs could be posted. They voted to deny Barlow's signs.

Barlow said that one protestor told him that if he wanted to post a sign, he could attend Reclaim's plenary meetings and vote with them about whether or not certain speech should be approved. But he could not, he was told, post a sign without prior approval from Reclaim.
RELATED: Harvard race activist calls those who disagree with him 'intellectual cowards'
Clayborne said the removal of these signs, too, was justified.

"Reclaim HLS also removed those posters [not referencing a candidate for elected office]," Clayborne said. "Reclaim HLS operates as a democracy and has consistently invited all students who share in its anti-racist mission to participate in its democratic body. We have a process for approving signage in Belinda Hall that was established by majority vote."

This voting process, Clayborne recalled, was implemented the night after the Trump posters were hung.
Reclaim's views on democracy are rather interesting, to say the least. Majority vote to approve speech?
But have no fear — Reclaim "invites discussion" … just on its terms:
We invite discussion in Belinda Hall rather than defiling of the space, but we suggest that these voices make the institution the target of their dissent and simply present ideas on how to make it more inclusive. Given student testimony and administration's admission, we will not legitimize a dispute on whether racism is a problem at Harvard Law School—that is clear.
So, things with which Reclaim disagrees equals "defilement," and there will be absolutely no discussion about whether racism is an issue at Harvard. Check.
Remember, Clayborne is the guy who called people who disagree with him "intellectual cowards" for not showing up to debate issues.
It sure takes some stones to express such a sentiment, Mr. Clayborne, when you get to decide which topics are worthy of discussion and debate.
UPDATE: Below is video from yesterday of Reclaim Harvard Law taking down some of Bill Barlow's flyers:
And here's what some of the signs (that were taken down) read:
RELATED: 'Reclaim Harvard Law' activists occupy thoroughfare that has been 'denied to minorities'
RELATED: Harvard 'racial justice' protesters protest award ceremony about … racial injustice
Like The College Fix on Facebook / Follow us on Twitter
IMAGE: Sam Graham/Flickr