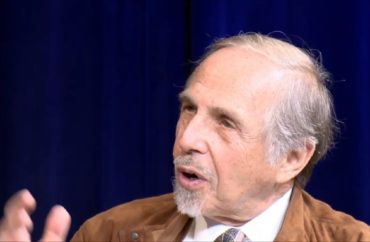 Trans student's question implied 'extermination of the white race' was justified
The truth hurts, doesn't it?
More surprising is that Harvard University didn't punish a professor for stating that truth, even when it riled up a student who ranks high on the subjective oppression scale – though it took a month to clear him.
The Ivy League school dismissed a Title IX complaint filed against Arthur Kleinman (above) by a transgender student who claimed the anthropology professor created a "hostile environment" by noting how Kai De Jesus would be treated in "rural China," The Harvard Crimson reports.
Kleinman insisted he was trying to stop De Jesus, a man who identifies as a woman, from derailing the virtual class session on the tradeoffs in global public health by suggesting violence against whites was justified.
Another student in the class, Shah Faesal, agreed that the transgender student's question, in retrospect, appeared to justify the "extermination of the white race to bring an end to the race problem."
"It seemed to me for sure this was bordering on hate speech, and I had to intervene," the professor, also a China scholar, told the Crimson:
The exchange began with a discussion of 20th-century philosopher Frantz Fanon's writings, which defend the use of violence and lay out the difficulty of including white people in anti-colonial struggles. Kleinman expressed his opposition to that position during the lecture, arguing that violence begets further violence.

During the question and answer session, De Jesus argued Fanon's theories should not be dismissed outright because, as a transgender woman of color, she had benefited from the exclusion of white people in certain contexts because it made her feel safer. De Jesus said she began her question with "while I don't believe we should kill all white people" before arguing that Fanon's theories have some merit, but she believes Kleinman and others misheard her.

During her question, she referenced a quote attributed to 20th-century Nation of Islam leader Elijah Muhammad calling white people blond-haired, blue-eyed devils.
Kleinman responded to De Jesus that the student "would likely be murdered in rural China due to her gender identity," the Crimson says. Though he apologized a day later for "somewhat clumsily" making his point, the professor said he was emphasizing to students that nonwhite cultures commit violence too.
Harvard's monthlong investigation concluded that Kleinman's alleged conduct was neither "pervasive" nor "objectively severe" and thus would not violate Faculty of Arts & Sciences policy.
De Jesus is a known activist at Harvard. The student got arrested at the so-called straight-pride parade in Boston last year for blocking officers from clearing protesters in the street, though the charges were dropped, the Crimson reported.
Months before the incident with Kleinman, De Jesus implied there was merit to the professor's argument about trans students in nonwhite cultures in a Crimson op-ed. (The student does not appear to consistently use the name "Kai De Jesus," alternately going by "Kai D. de Jesus" and the surname variants "deJesus" and "DeJesus.")
Criticizing Harvard for giving the bum's rush to students this spring in response to COVID-19, the student argued Harvard shouldn't question students who claim they "truly need to be on campus":
A "questionnaire" that assumes all situations can be explained by yes or no questions and a box for students to "elaborate" turns a resource that should help students into a game. Worse, the general framing of the appeal process forces students to share their traumas and painful home environments to prove they really need to be back on campus. …

[T]he College should explicitly allow petitioners to refrain from going into detail about their situations. No student should have to retraumatize themselves for the bare minimum necessity of living conditions conducive to learning.
MORE: College president calls straight-pride parade a 'perversion'
IMAGE: Kameel Nasr/YouTube
Like The College Fix on Facebook / Follow us on Twitter