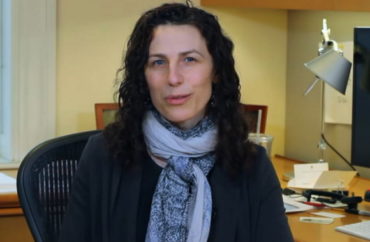 A prominent Harvard scholar who has been accused of data falsification is fiercely defending her reputation, filing a defamation lawsuit that argues she faces gender discrimination and defamation of character.
Harvard Business School Professor Francesca Gino filed the lawsuit in August against the university and the trio of data scientists who accused her of falsifying data in as many as four separate research papers.
A statement provided by Gino's representatives to The College Fix from her attorney, Andrew Miltenberg, argues that Harvard showed disregard for evidence, due process and confidentiality when it suspended Gino without pay.
"The University's lack of integrity in its review process stripped Prof. Gino of her rights, career and reputation – and failed miserably with respect to gender equity," Miltenberg said.
Among its proposed points against the university and the scientists, the lawsuit alleges that "Harvard's gender bias against women was a motivating factor in HBS's [Harvard Business School] decision to subject Plaintiff to an onerous investigation and to impose upon her severe penalties, including unpaid administrative leave for two years."
"Harvard and HBS are also known for treating female faculty less favorably than male faculty," it added.
The three professors named in the lawsuit are Joseph Simmons of the University of Pennsylvania, Uri Simonsohn of the Escade Business School in Spain, and Leif Nelson of the University of California, Berkeley.
They accused Gino of committing data fraud in a four–part blog series for a blog called "Data Colada." The accusations were published periodically over this summer after they were first presented to Harvard in July 2021.
In response, Gino filed a lawsuit on Aug. 3 after being notified that she would be placed on administrative leave and revoked of her professorship, according to the Harvard Crimson.
The lawsuit alleges that Harvard Business School and the three scientists collaborated against Gino and her research despite lack of evidence, which resulted in "severe emotional distress," among other consequences.
The Fix contacted in recent weeks via email Simmons, Simonsohn and Nelson for their comment on the lawsuit. None have responded.
But the scholars have discussed the lawsuit on their blog.
In a Sept. 1 post called "Data Litigada," they said their respective employers are going to help with the initial stages of the legal battle and they stand behind their work, pointing out that the data tampering they alleged in four papers "have since been retracted (or re-retracted)."
The professor also thanked supporters for donating to their legal fund, adding "your response has sent a message, to us, to our universities, to each other, and to the world: It is not OK to use the legal system to punish scientists for drawing reasonable conclusions from stated facts."
Part one of Data Colada's initial series, called "Clusterfake," was published on June 17 and states: "In 2021, we and a team of anonymous researchers examined a number of studies co-authored by Gino, because we had concerns that they contained fraudulent data. We discovered evidence of fraud in papers spanning over a decade, including papers published quite recently (in 2020)."
But Gino's representatives pointed The College Fix to a YouTube interview published just over a month later, on July 18, during which Simonsohn said there is a lack of evidence: "My belief is that she did it. But there is no evidence. But it doesn't really matter."
The College Fix emailed Simonsohn several times in recent weeks and asked for clarification on these statements but has not received a response.
Gino's spokespeople also provided a statement from Harvard Business School Technology and Operations Management Professor Frances Frei in defense of the embattled scholar.
"The more I learn about the process used in these investigations, the more troubled I am. Prof. Gino's career and life have been shattered without any proof she did anything wrong," Frei stated.
"I'm honestly shocked," she continued. "As a fellow professor and researcher, it's disturbing and frankly terrifying. And if this can happen to her, it can happen to anyone."
MORE: Harvard ethics professor allegedly fabricated multiple behavioral science studies
IMAGE: YouTube screenshot
Like The College Fix on Facebook / Follow us on Twitter