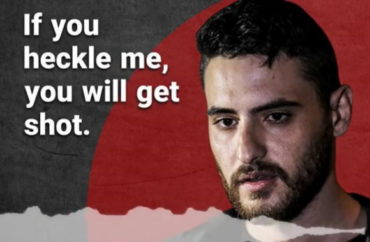 A variety of student groups at Harvard University this week hosted fiery Palestinian activist Mohammed El-Kurd, who pushes antisemitic rhetoric, prompting protests from pro-Israel students at the Ivy League institution.
El-Kurd spoke on "pushing institutions to divest from oppressive systems" Monday at an event titled "Confronting State Violence: Divestment and Youth Activism." He was joined at the podium by Black Lives Matter leader Marcus McDonald.
"Currently a columnist for the left-wing magazine The Nation, the 24-year-old el-Kurd has trafficked in antisemitic tropes, demonized Zionism, and falsely accused Israelis of eating the organs of Palestinians. Over the past two years he has widely toured across American university campuses, heightening concerns about rising antisemitism and harassment against pro-Israel students," The Algemeiner reported.
As The College Fix reported last March, Duke University's Student Government voted to provide $16,000 to bring El-Kurd to their campus. During his speech, when asked what would happen to Israelis if Palestinians took the land "from the river to the sea" he reportedly replied "I don't care. I truly, sincerely, don't give a f**k," as the audience cheered.
During his talk at Arizona State University last April, El-Kurd joked: "If you heckle me, you will get shot."
Horrific – audio footage of rabid antisemite Mohammed El-Kurd stating "if you heckle me, you will get shot" at Arizona State University this past Sunday April 10th. 

This hatred & incitement to violence is being welcomed and rewarded with big paychecks at schools like @ASU 

1/3 pic.twitter.com/kWaA2wayGK

— StopAntisemitism (@StopAntisemites) April 13, 2022
El-Kurd was brought to Harvard by the Harvard College Palestine Solidarity Committee, among other groups.
The guest talk prompted a student protest among pro-Israel students, who displayed Israel's flag and waved posters criticizing El-Kurd, the Harvard Crimson reported.
Harvard Hillel President Natalie Kahn told the student newspaper that El-Kurd's rhetoric has "crossed the line."
"The kind of ideology that the PSC is espousing, when that's the kind of speaker that they're inviting in — they can't claim to be for peace and dialogue or for really any kind of conflict resolution," she said.
Harvard students Jacob Miller and Alexander Bernat co-authored an opinion piece in the Crimson to coincide with El-Kurd's visit to voice concern about not only the choice in speaker but also the growing level of antisemitism on their campus:
Harvard already has an antisemitism problem. Just this past year, many Jews were horrified to hear allegations by Government Professor Eric M. Nelson '99 that a swastika symbol had been found in Currier House. They were disgusted to see imagery reminiscent of the Holocaust painted on a bizarre display in Harvard Yard that seemed to tacitly equate Zionism with Nazism. They were disturbed when this very newspaper's Editorial Board endorsed the Boycott, Divest, and Sanction Israel movement, a cause that many American Jews consider to be either mostly antisemitic or to have some antisemitic supporters. And they were scared when they discovered an online interactive map that documented the locations of dozens of Boston Jewish organizations in what feels like an apparent "how-to" guide for the hate-crime-curious.

Now, hosting a speaker on this campus who seemingly flirts with antisemitism — especially one who has appeared to endorse the use of violence in some cases — makes Jewish students feel even less safe. …

By inviting El-Kurd, the PSC has demonstrated what appears to be a disturbing degree of carelessness and flippancy about antisemitism. We believe they should invite speakers whose views are constructive and lead to dialogue, not those who lead to Jewish students feeling unsafe. When an individual engages in hateful and incendiary behavior, we all have the obligation to speak out, or, at the very least, not invite them into our community.
Prior to El-Kurd's visit to Harvard, he spoke at MIT on Oct. 22.
"As an Israeli, it is incredibly disturbing that numerous departments at MIT would co-sponsor and allocate funds toward hosting speakers who lionize terrorists and whitewash horrific acts of violence against my family, friends, and peers as forms of 'resistance,'" said MIT student Dana Rubin in a statement.
A feature on El-Kurd by the Jewish Journal earlier this year argued that beneath El-Kurd's "veneer of social justice, altruism, and reporting is a vile agenda—full of antisemitism and hate for the world's only Jewish state."
MORE: 'Zionists' have 'unquenchable thirst for Palestinian blood,' Duke speaker says
IMAGE: Stop Antisemitism screenshot
Like The College Fix on Facebook / Follow us on Twitter