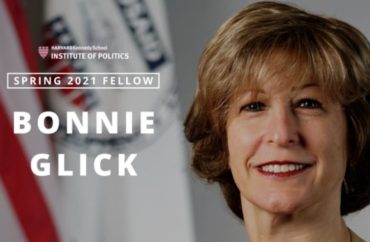 Harvard's Kennedy School hosts Bonnie Glick, a USAID administrator under Trump
Some activists demanded Harvard University enact strict parameters — or avoid inviting — anyone who served under the Trump Administration as a scholar at the Ivy League school, but campus leaders did bring one such individual into the fold.
Harvard's Kennedy School's Spring 2021 Fellows include Bonnie Glick, former deputy administrator for the United States Agency for International Development under President Trump.
She is scheduled to discuss "Trump Foreign Policy Success: What the Administration Got Right," according to the institute's website.
In an interview with The College Fix, Glick said she is pleased to be an Institute of Politics fellow and hopes to advance academic discourse.
"The environment on so many college campuses is puzzling to me," Glick said via email when asked about what it meant to be a voice for conservatives on campus.
"At a place like Harvard, the student body is very talented, worldly, and curious but at the same time, that same student body, often, is not interested in hearing dissenting voices from other students."
Glick getting the nod for the fellowship came in the wake of a very tumultuous political time period, especially on Harvard's campus. At Harvard Law School, a large number of students recently signed on to a petition to prevent Trump officials from having anything to do with the campus.
Ab Henry, president of the Harvard Law School Republicans, said he is "pleased to see Harvard continue its courageous commitment to the free exchange of ideas and to its engagement with leaders from a wide range of political perspectives. Diversity is powerful, and that includes ideological diversity."
While Glick admits that she cannot "read the tea leaves on future Harvard Administration decisions," she made it clear that her "virtual" arrival on campus has felt nothing short of welcoming.
The timing of Glick's invitation may serve as an indication that Harvard's administration has not caved to the will of student groups on campus that called for restrictions of all members of the Trump administration from campus in an effort to create what they call a "system of accountability."
"Voices with which you disagree shouldn't be drowned out, they should be debated, in a civil manner, and we all might just have the great chance to learn from others," Glick told The College Fix.
Students who "believe that 'if you don't agree with me, you're wrong,'" are, according to Glick, "missing out on a great opportunity to have their preconceived ideas challenged," a central part of a college student's four years of formative education.
Institute fellows provide "Harvard students with the opportunity to learn from prominent public servants, engage in civil discourse, and acquire a more holistic and pragmatic view of our political world," according to its website.
Glick's study group is slated for next week, the institute's website states. It is only open to the Harvard community and it is off-the-record.
"Glick is the former Deputy Administrator/Chief Operating Officer of the U.S. Agency for International Development where she served from January 2019-November 2020 after her unanimous confirmation by the U.S. Senate. She oversaw the operations of the Agency with its $20+ billion budget and 11,000 staff in over 100 countries around the world," the institute notes.
Open conversation and political discourse on campus at Harvard has seemingly become increasingly difficult given recent events, especially after Harvard University's Dean of Students, Katherine O'Dair, published a tweet after the events at the Capitol Building calling for President Trump's immediate removal from office, accusing him of "treason."
However, Glick said she is confident that there is still hope for students to understand that it is okay to "disagree with others," but also that "one can disagree in an agreeable manner."
"Both John F. Kennedy and Ronald Reagan referred to a city upon a hill — a high point that we, in America, are lucky to live in and from which we can be a beacon. I'd like to see Harvard as the place where conservatives and liberals can live up to that beacon's light."
The senate voted unanimously to confirm her in January 2019 but she was fired in November 2020, reportedly due to some post-election administrative jockeying as the Biden team prepared to take over.
MORE: Harvard activists want restrictions on Trump alumni teaching, speaking on campus
IMAGE: Harvard University screenshot
Like The College Fix on Facebook / Follow us on Twitter