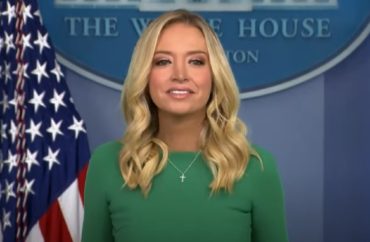 Dershowitz, Spicer denounce effort in comments to The College Fix
A petition to Harvard University President Lawrence Bacow and other academic leaders of the Ivy League school demands "accountability guidelines" when considering inviting Trump administration officials to speak.
"We worry that in following tradition and inviting members of the Trump administration to Harvard, the school would be legitimizing this subversion of democratic principles that up to now had been universally accepted by both political parties," the petition said.
"Part of ensuring the survival of our democracy means calling to account those who seek to harm it," the petition said.
It said that President Trump is "actively undermining faith in the electoral process" in refusing to concede the 2020 presidential election. The petition calls for the school to vet speakers "and hold them fully accountable for that complicity … or not invite them to speak at all."
It is unclear who created the document or how many people have signed onto it to show their support. It does not specifically say it wants a blanket ban on Trump officials, but both opponents and allies of the letter have interpreted it that way.
In October, a Harvard law student, Kaivan Shroff, wrote an op-ed in the student newspaper The Harvard Crimson with similar themes, calling on the Ivy League university to denounce "its cartel of Trump administration alumni."
Shroff did not respond to an Instagram message from The College Fix on Monday morning asking if he was the author of the petition or involved with it.
MORE: .1 percent of Harvard faculty donations go to Republican presidential candidates
The possibility of barring Trump administration officials and associates from campus drew condemnation from several allies of the president.
"What the petition is asking for at Harvard is pure McCarthyism," Harvard law professor emeritus Alan Dershowitz told The College Fix via a phone message.
Dershowitz helped defend Trump during his impeachment trial in early 2020.
He said:
In some ways, it's even worse than McCarthyism and it sounds like the re-education camps that communists use in China and the apartheid they used in the pre-Mandela period. Every point of view should be represented in a university, there should be no litmus tests for who is allowed to speak and who is allowed to teach and who is allowed to be a student and those of us who are genuinely liberals as distinguished from radical Stalinists have to fight back against any effort to suppress a real diversity on campus, find real free speech. Diversity means different points of view not only different racial, ethnic, and gender orientation and that sort. We are not getting that from this petition.
"Will I be banned from speaking at Harvard?" the law professor wrote on Twitter.
Will I be banned from speaking at Harvard? The media has reported that Harvard students are circulating a petition to ban anyone who worked for the White House (me) from speaking at Harvard University. McCarthyism? Watch the Dershow. Call me 216-710-0050.https://t.co/v2rxR0yTkD

— Alan Dershowitz (@AlanDersh) November 18, 2020
The petition and its implications drew criticism from Sean Spicer, the White House former press secretary.
A statement sent from Spicer's email to The Fix, but unsigned, said:
It's troubling that yet again an institution of higher learning is furthering intolerance towards ideas, policies, and people that don't adhere to the extreme left-wing agenda they promote. Colleges and universities should be an opportunity for students to be exposed to a variety of viewpoints and unfortunately, instances like this one are becoming more familiar.
The letter had called out the Harvard Kennedy School's Institute of Politics saying that it has "the responsibility to boldly confront Trump administration alumni invited to speak at Harvard about their collaboration or passive acceptance of this attack on truth and fundamental democratic principles — or not invite them to speak at all."
Previously, the Institute of Politics hosted Spicer for 11 off-the-record events and hosted him as a fellow, according to student newspaper the Crimson.
Kayleigh McEnany, the current White House press secretary and a Harvard alumna, criticized the petition as well.
"Academic communities should be bastions of free speech," she reportedly told Fox Business reporter Lydia Moynihan.
BREAKING: @PressSec responds to our Harvard story: "I hope the school administrators rebukes this movement. Academic communities should be bastions of free speech. I will happily walk back on campus and challenge this." CC: @CGasparino @DormanInDc @FoxBusiness

— Lydia Moynihan (@LJMoynihan) November 18, 2020
University silent on petition
James Smith, the communications director for the Harvard Kennedy School told The Fix via email that the public policy school "has not commented on this issue" and told The Fix in response to a reiteration for a request for comment that "[w]e don't have any comment on the petition."
The Fix also reached out to the university's media relations department twice in the past week seeking comment on the petition and future plans to host Trump officials but did not receive a response.
According to the Crimson, "the University has stayed quiet on the issue. Its spokesperson, Jason A. Newton, said 'the University is aware of this student petition,' but had no further comment."
Support for barring Trump officials and associates from campus has the backing of a university union representing graduate students as well as an editor of the Crimson.
Marisa Borreggine, a leader in the Harvard Graduate Students Union-United Automobile workers, told the Crimson that Harvard should "stand for democratic principles and not hire any outgoing Trump officials."
"Absolutely nothing for any of the grifting, gaslighting snake-oil salesmen or their complicit enablers," Crimson editorial editor Orlee Marini-Rapoport wrote in an op-ed in support of the petition. She said the university should reject anyone who was "willing to put an end to the American conception of democracy if it pleased the whims of their Narcissist-in-Chief."
Marini-Rapoport said that the letter does not call for an "outright ban" but it should.
"But while this petition has been wildly mischaracterized and unfairly criticized, it does not go far enough," the newspaper editor said.
MORE: Harvard student newspaper says Republicans feel marginalized on campus
MORE: Harvard student newspaper editors say Trump supports endorse 'white supremacy'
IMAGE: Yahoo Finance/YouTube
Like The College Fix on Facebook / Follow us on Twitter